Contact: David Cook

A&P Falmouth Limited
The Docks
Falmouth
TR11 4NR
Cornwall
Size

Large

Direct employees

255

Turnover (reported)

£34,400,517

Regional Markets

Australia, Europe

Nuclear Contracting Tiers

Tier 4: Sub-component Suppliers/Distributors
Tier 5: Processors & Fabricators
Accreditations
Achilles UVDB Verify Cat B
BS 11001 Now ISO 44001
CE Marking / EN 1090
FPAL
ISO 14001:2015
ISO 3834-2:2005
ISO 9001:2015
OHSAS 18001
OHSAS 18001 Now ISO 45001
RCC-M
UVDB Verify
A&P Falmouth
Steel Fabrications
Steel/heavy fabrications,engineering, machining, profiling, pipework,pumps, refurbishment and repair of valves, Ship Repair, Dry Docking, Marine services
Overview
A&P Group has a long-standing and well-earned reputation for delivering highly complex steel fabrication projects across the UK and beyond. A&P operates from its Dock Yard sites offering quality fabrication and machining services to Energy, Marine and Defence markets, from 3 strategically located sites in the UK at Tyne, Tees and Falmouth. With over 600 Group employees with an annual turnover of £120 million. The company is accredited and complies with the most widely recognised quality management standards, ISO9001:2015, ISO14001: 2015 & ISO45001:2018.
Our quality team has also been actively ensuring that engineering practices and resources are in line with and have been validated to meet the rigorous demands of the Nuclear and Renewables sectors. Attaining Fit4Nuclear accreditation in November 2019, A&P Falmouth has over 4,000m2 of Fabrication and Welding facilities, a 3,200m2 Machining shop, both supported by overhead heavy lift with on-site Paint Finish/Blasting shop, assured by CSWIP 3.2.1 Level quality inspection. The experienced workforce and large capacity work spaces are ideal for Nuclear new build and structural steel fabrication work packages to the highest QA Grade quality requirements and to EN1090-2 execution class 3.
A&P Falmouth is actively engaged and bidding on HPC New build projects for MEH work packages, as well as UKAEA and Sellafield Projects.
Products and Services
| Product | Sector |
| --- | --- |
| Specialist Services & Processes including Engineering Manufacturing Design & Testing | Nuclear Civil |
| Pipework Supports | Nuclear Civil |
| Marine Barges | Marine Commercial & Naval |
| Fabrication Med-integrity Structures | Nuclear Civil |
| Pipework Fittings & Spools | Nuclear Civil |
| Mechanical & Electrical Engineering (M&E) | Nuclear Civil |
| Precision & General Machining | Nuclear Civil |
| Structural Components Building | Nuclear Civil |
| Coatings Paints Protection Processes & Systems | Nuclear Civil |
| Materials Tubing & Pipework | Nuclear Civil |
| Structural Fabrications | Nuclear Civil |
| Fabrication Hi-integrity & Complex Structures including Heavy | Nuclear Civil |
| Cable Supports Conduit Fixings Trays Trunking Ducting & Splicers | Nuclear Civil |
| Pumps including Main Reactor Circulation Pumps & Motors | Marine Commercial & Naval |
| Cables | Marine Commercial & Naval |
| Precision & General Machining | Marine Commercial & Naval |
| Materials Tubing & Pipework | Marine Commercial & Naval |
| Valves including Main Isolation SQUIB & Actuators | Marine Commercial & Naval |
Site Facilities
Shop Floor
4000m2 The following is a brief description of yard capabilities and work which can be undertaken in our workshops. The fabrication facility at Falmouth has over 40,000 sq. ft of working space. This list is not exhaustive list and we would ask that any (additional) work you may normally consider subcontracting to outside specialists, you would offer us the chance of quoting in the first instance. Workshop Size; Fabrication 4192ft2; Engineering 3244ft2; Electrical 875ft2; Joinery 1014ft2; Lift Capacity; Fabrication Shop 8t & 50t overhead; Fitting Shop 10t x 2, 15t x 1, 40t (plus external cranage dock side up to 100t) Welding: All materials across many process's including Submerged Arc, MIG, TiG and MMA, Qualified welders to standard EN287-1:2004 for mild, high tensile and stainless steels, Aluminium welders to standard BS EN 287-2 1997. A&P Group has an ISO3834-2 Qualified European Welding Engineer and is compliant to EN1090-2 Execution Class 3 structural steels.
Specialist Machinery
Capability
Swing
Length
Width
Weight
3 Axis Milling1. Lathes: For all general machining applications. 2. Grinding: Hunger Valve Spindle Spindle capacity 45 mm dia. Chris Marine Valve Seat ax.diameter 90 mm CPS Chris Marine Surface Grinder (portable) – Capacity 600 – 1,400 mm 3. Machining & Turning: Max.diameter 2.8M Max.length 9.0M 4. De-glazing & Cylinder Honing: Max.diameter 490 mm 5. Workshop Press (100 tonnes): Max length 1.1M between centres
Min:
-
-
-
N/A
Max:
-
-
-
-
Welding & Cladding
Capability
Swing
Length
Width
Gas Tungsten Arc Welding (GTAW)Stainless Steel, Carbon Steel & Aluminium
Min:
-
-
-
Max:
-
-
-
Metal Inert Gas Welding (MIG)Carbon Steel, Stainless Steel & Aluminium
Min:
-
-
-
Max:
-
-
-
Submerged Arc Welding (SAW)
Min:
-
-
-
Max:
-
-
-
Inspection / Testing
CMM machines
Non destructive testing - Magnetic Partical
Non destructive testing - Radiography
Non destructive testing - Ultrasonic
Pressure / Hydro Testing
Design
CAD Design - 2D
CAD Design - 3D
CAM Design - 2D
CAM Design - 3D
Recent Work
Repair & Refurbishment of Steam Turbines
Langage Power Station in Plymouth engaged A&P's specialist blend of in-house machining and engineering expertise to overhaul three steam turbines. A six week intensive programme of work was undertaken at A&P's Falmouth facility. Each of the turbines required specialist transfer and lifting into A&P's 3,500m² machining workshop. Work included stripping the components, precision blasting and crack detection NDT to ensure the equipment was tested and compliant to remain in service for a further five years.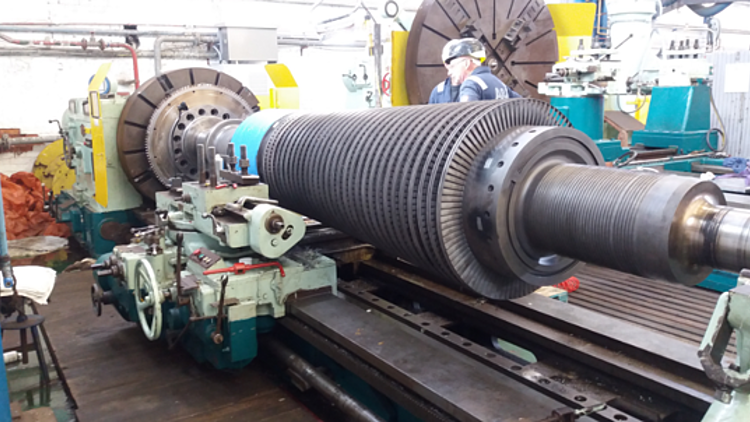 Automatic Hydraulic Flood Barriers
In a year-long programme, A&P Falmouth worked closely with Food Control International, a UK based specialist supplier and installer of flood defence systems, to fabricate specialist flood barriers to protect the New York University Hospital's underground loading dock and garage. Standing at 4 metres tall and 10 metres wide, the barriers required A&P's extensive design and fabrication expertise as well as its unfaltering commitment to quality-driven engineering excellence. Using A&P Falmouth's on-site fabrication, machining and paint workshops, the team machined and welded the ancillary fittings and pins required to fabricate all four barriers.