Contact: David Taylor

Falcon Industrial Park
Meadow Lane
Loughborough
LE11 1HL
Leicestershire
Size

SME

Direct employees

166

Turnover (reported)

£19,686,000

Regional Markets

Europe

Nuclear Contracting Tiers

Tier 6: Raw Material Suppliers/Miners
Tier 5: Processors & Fabricators
Tier 4: Sub-component Suppliers/Distributors
""
""
""
""
"Professionals with excellent service"

Has the headlines say professional with excellent service. We find Adey Steel a pleasure to work with, they understand our needs and react to them.
""
Accreditations
ISO 9001:2008
OHSAS 18001
Adey Steel Ltd
Steel Fabrications
Steel Fabrications - secondary steelwork
Overview
Adey Steel Group is a leading steel fabrication and processing specialists in the UK. For over 90 years we have applied our expertise into the construction, engineering and infrastructure sectors. Built from four individual companies we are founded on strong values, dedicated to engineering excellence and hold outstanding customer service at our core.
We employ over 150 people whose expertise and attitudes drive our business forward, our headquarters in the Midlands is the home to our office functions and our impressive 100,000 square metre workshop facility. We have projects teams working alongside customers on sites throughout the UK and are focused on forging strong relationships on which to sustainably grow our business.
Quality, safety and sustainability are key considerations in all that we do as a business. This is reflected by the compliment of industry accreditation's we hold and the associations we participate in.
Products and Services
| Product | Sector |
| --- | --- |
| Pressure Vessels Heat Exchangers & Tanks including Internals | Renewables - (Wind, Tidal, Solar Biomas etc.) |
| Filtration Systems Drums Screens Filters & Strainers | Renewables - (Wind, Tidal, Solar Biomas etc.) |
| Fabrication Med-integrity Structures | Power Generation, Distribution & Transmission |
| Structural Components Building | Power Generation, Distribution & Transmission |
| Materials Tubing & Pipework | Power Generation, Distribution & Transmission |
| Filtration Systems Drums Screens Filters & Strainers | Nuclear Civil |
| Fabrication Hi-integrity & Complex Structures including Heavy | Construction - Civils |
| Structural Fabrications | Rail & Transport |
Site Facilities
Shop Floor
100000m2
Inspection / Testing
Drop Testing
Non destructive testing - Magnetic Partical
Non destructive testing - Radiography
Non destructive testing - Ultrasonic
Pressure / Hydro Testing
Proof Load Testing
Design
CAD Design - 2D
CAD Design - 3D
Recent Work
Silo Fabrication
Adey Steel can manufacture Silo's of all sizes and diameters.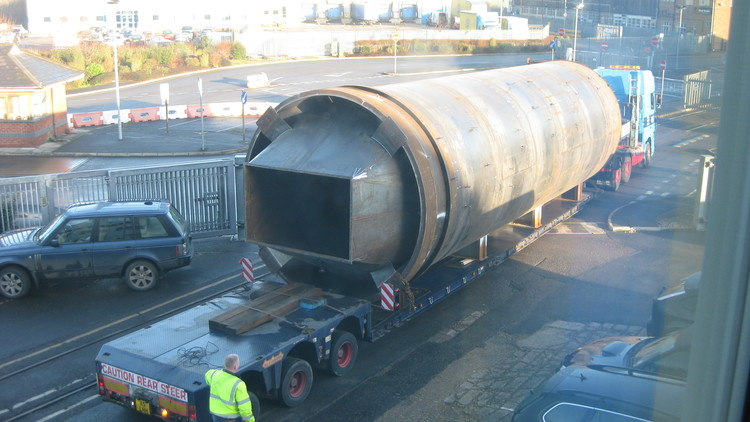 Bunker Fabrication
Adey Steel Ltd have completed and delivered one of the two Sliding Frame Bunker.
The first Bunker has been manufactured and delivered successfully to a Biomass plant in Coventry with the second being sent to a plant in Swindon.
These components have a hydraulically actuated lid that opens to allow trucks to tip material into the sludge reception silo. A Sliding Frame positioned on the baseplate in the flat bottomed silo reciprocates across the floor promoting mass flow and discharging directly into a silo pump screw conveyor where it is pumped to the next process.
The frames are a substantial single unit with the weldments themselves weighing 17.5t and 20.3t alone along with 5t of ancillary steelwork to support each Bunker.
Within our scope of supply the client requested that we manufactured these units in one piece so hiring in specialist equipment to carry out the lifts was required. By providing the unit in one piece saved many man hours of additional installation and erection work on site.