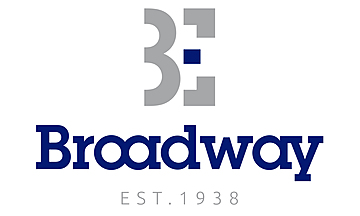 Contact: Mark Watkins

10-12 Knapps Lane
St George
Bristol
BS5 7UH
Somerset
Size

SME

Direct employees

71

Turnover (reported)

£7,600,000

Regional Markets

Asia, Europe, North America

Nuclear Contracting Tiers

Tier 4: Sub-component Suppliers/Distributors
Accreditations
AS 9100
ISO 9001:2008
NADCAP
Broadway Engineering Ltd
Precision Machining
Precision Machining and Special Processes
Overview
Broadway Engineering Ltd are experts in precision machining and assembly, operating within the UK and international civil and defence aerospace, Oil and Gas, Power and Nuclear industries.
Our expertise lies in the manufacture of 'current and aftermarket' products which cater for both production items and bespoke requirements. Being customer driven, we have a proven track record and offer impressive turnaround times to meet even the tightest of deadlines.
Established in 1937, Broadway Engineering Ltd is a privately owned company and our highly skilled, loyal workforce which boasts 1,000 years of experience in the industry. The team has a proven track record in aerospace production and aftermarket spares, which encompasses high tolerance prismatic products, manufactured from a host of exotic materials. By using a computer integrated manufacturing system, we are able to work efficiently and effectively to deadline, whilst continuing to deliver the highest standards of workmanship.
Products and Services
| Product | Sector |
| --- | --- |
| Transformers | Electrical components & equipment |
| Tooling Equipment | Aerospace - Civil and Defence |
| Precision & General Machining | Aerospace - Civil and Defence |
| Precision & General Machining | Aerospace - Civil and Defence |
| Precision & General Machining | Electrical components & equipment |
| Precision & General Machining | Rail & Transport |
| Precision & General Machining | Power Generation, Distribution & Transmission |
| Precision & General Machining | Subseas and Offshore |
| Precision & General Machining | Marine Commercial & Naval |
| Precision & General Machining | Nuclear Defence - Naval Marine |
Heat Treatment (NADCAP)
NDT (NADCAP)
Site Facilities
Shop Floor
3250m2
Specialist Machinery
Capability
Swing
Length
Width
Weight
5 Axis Milling
Min:
-
-
-
N/A
Max:
-
-
-
-
Horizontal Mill / Turn
Min:
-
-
-
N/A
Max:
-
-
-
-
Inspection / Testing
Clean room facilities
CMM machines
Non destructive testing - Magnetic Partical
Pressure / Hydro Testing
Temperature controlled facility for inspection
Design
CAD Design - 3D
CAM Design - 3D
Recent Work