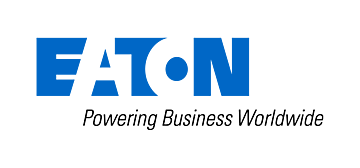 Size

Large

Direct employees

250

Turnover (reported)

£41,000,000

Regional Markets

Asia, Africa, Australia, Europe, North America, South America

Nuclear Contracting Tiers

Tier 5: Processors & Fabricators
Tier 4: Sub-component Suppliers/Distributors
Accreditations
CE Marking / EN 1090
ISO 14001:2015
ISO 9001:2008
ISO 9001:2015
Eaton Electrical System Ltd
Instrumentation & Control Equipment
Cable Termination and Accessories
Overview
EATON is a power management company that provides solutions, systems, and innovations for electrical, hydraulics, aerospace, and vehicle markets. Made up of 92 000 employees in over 500 facilities worldwide in more than 175 countries. Eaton's energy-efficient products and services help customers to effectively manage power solutions.
With the acquisition of Cooper Industries in 2012, the legacy brands Capri, Raxton and Redapt took part in Eaton's offering of high-quality installation materials.
In United Kingdom, the Aldridge site is the head office for Raxton and Redapt offers, established market leading brands since the 1970s. The plant develops and manufactures thread conversion equipment for industrial and hazardous applications Oil & Gas, Nuclear, Mining, Marine, Solar, food industry focused on turning, milling and laser marking.
EATON Aldridge site works in accordance with: ISO 14001:2015 DNV, EATON's MESH (Management of Environmental Safety & Health) & EQMS (EATON Quality Management System) systems built on ISO 9001, OHSA 18001, TS16949 and AS9100. 
The facility manufactures industrial products certified by approved bodies such as: EAC, Ex, NEPSI, CSA, INMETRO.
Products and Services
| Product | Sector |
| --- | --- |
| Seals Gaskets O-Rings & Metal O-Rings | Utilities |
| Grounding Devices | Utilities |
| Glands | Utilities |
| Electrical Feedthroughs | Utilities |
| Electrical & Electronic Components Connectors and PCB's | Utilities |
| Connectors & Contactors | Utilities |
| Cable Supports Conduit Fixings Trays Trunking Ducting & Splicers | Utilities |
| Seals Gaskets O-Rings & Metal O-Rings | Subseas and Offshore |
| Grounding Devices | Subseas and Offshore |
| Glands | Subseas and Offshore |
| Electrical Feedthroughs | Subseas and Offshore |
| Electrical & Electronic Components Connectors and PCB's | Subseas and Offshore |
| Connectors & Contactors | Subseas and Offshore |
| Cable Supports Conduit Fixings Trays Trunking Ducting & Splicers | Subseas and Offshore |
| Connectors & Contactors | Renewables - (Wind, Tidal, Solar Biomas etc.) |
| Seals Gaskets O-Rings & Metal O-Rings | Renewables - (Wind, Tidal, Solar Biomas etc.) |
| Grounding Devices | Renewables - (Wind, Tidal, Solar Biomas etc.) |
| Glands | Renewables - (Wind, Tidal, Solar Biomas etc.) |
| Electrical Feedthroughs | Renewables - (Wind, Tidal, Solar Biomas etc.) |
| Electrical & Electronic Components Connectors and PCB's | Renewables - (Wind, Tidal, Solar Biomas etc.) |
| Cable Supports Conduit Fixings Trays Trunking Ducting & Splicers | Renewables - (Wind, Tidal, Solar Biomas etc.) |
| Seals Gaskets O-Rings & Metal O-Rings | Rail & Transport |
| Grounding Devices | Rail & Transport |
| Glands | Rail & Transport |
| Electrical Feedthroughs | Rail & Transport |
| Electrical & Electronic Components Connectors and PCB's | Rail & Transport |
| Connectors & Contactors | Rail & Transport |
| Cable Supports Conduit Fixings Trays Trunking Ducting & Splicers | Rail & Transport |
| Seals Gaskets O-Rings & Metal O-Rings | Power Generation, Distribution & Transmission |
| Grounding Devices | Power Generation, Distribution & Transmission |
| Glands | Power Generation, Distribution & Transmission |
| Electrical Feedthroughs | Power Generation, Distribution & Transmission |
| Electrical & Electronic Components Connectors and PCB's | Power Generation, Distribution & Transmission |
| Connectors & Contactors | Power Generation, Distribution & Transmission |
| Cable Supports Conduit Fixings Trays Trunking Ducting & Splicers | Power Generation, Distribution & Transmission |
| Seals Gaskets O-Rings & Metal O-Rings | Petrochemical & Refining |
| Grounding Devices | Petrochemical & Refining |
| Glands | Petrochemical & Refining |
| Electrical Feedthroughs | Petrochemical & Refining |
| Electrical & Electronic Components Connectors and PCB's | Petrochemical & Refining |
| Connectors & Contactors | Petrochemical & Refining |
| Cable Supports Conduit Fixings Trays Trunking Ducting & Splicers | Petrochemical & Refining |
| Seals Gaskets O-Rings & Metal O-Rings | Oil & Gas including LNG |
| Grounding Devices | Oil & Gas including LNG |
| Glands | Oil & Gas including LNG |
| Electrical Feedthroughs | Oil & Gas including LNG |
| Electrical & Electronic Components Connectors and PCB's | Oil & Gas including LNG |
| Connectors & Contactors | Oil & Gas including LNG |
| Cable Supports Conduit Fixings Trays Trunking Ducting & Splicers | Oil & Gas including LNG |
| Seals Gaskets O-Rings & Metal O-Rings | Nuclear Defence - Naval Marine |
| Grounding Devices | Nuclear Defence - Naval Marine |
| Glands | Nuclear Defence - Naval Marine |
| Electrical Feedthroughs | Nuclear Defence - Naval Marine |
| Electrical & Electronic Components Connectors and PCB's | Nuclear Defence - Naval Marine |
| Connectors & Contactors | Nuclear Defence - Naval Marine |
| Cable Supports Conduit Fixings Trays Trunking Ducting & Splicers | Nuclear Defence - Naval Marine |
| Seals Gaskets O-Rings & Metal O-Rings | Nuclear Civil |
| Grounding Devices | Nuclear Civil |
| Glands | Nuclear Civil |
| Electrical Feedthroughs | Nuclear Civil |
| Electrical & Electronic Components Connectors and PCB's | Nuclear Civil |
| Connectors & Contactors | Nuclear Civil |
| Cable Supports Conduit Fixings Trays Trunking Ducting & Splicers | Nuclear Civil |
| Seals Gaskets O-Rings & Metal O-Rings | Marine Commercial & Naval |
| Grounding Devices | Marine Commercial & Naval |
| Glands | Marine Commercial & Naval |
| Electrical Feedthroughs | Marine Commercial & Naval |
| Electrical & Electronic Components Connectors and PCB's | Marine Commercial & Naval |
| Connectors & Contactors | Marine Commercial & Naval |
| Cable Supports Conduit Fixings Trays Trunking Ducting & Splicers | Marine Commercial & Naval |
| Seals Gaskets O-Rings & Metal O-Rings | Electrical components & equipment |
| Grounding Devices | Electrical components & equipment |
| Glands | Electrical components & equipment |
| Electrical Feedthroughs | Electrical components & equipment |
| Electrical & Electronic Components Connectors and PCB's | Electrical components & equipment |
| Connectors & Contactors | Electrical components & equipment |
| Cable Supports Conduit Fixings Trays Trunking Ducting & Splicers | Electrical components & equipment |
Plugs and hazardous areas - Breather drains
Site Facilities
Shop Floor
15000m2
Specialist Machinery
Capability
Swing
Length
Width
Weight
6 Axis Milling7 Axis Turning machine with Twin spindle, Twin turret, Auto bar feed,
Min:
-
-
-
N/A
Max:
-
-
-
-
Horizontal Milling (CNC)
Min:
-
-
-
N/A
Max:
-
1200mm
600mm
1000kg
Horizontal Turning (CNC)240mm diameter bar
Min:
-
-
-
N/A
Max:
-
-
-
-
Vertical Milling (CNC )
Min:
-
-
-
N/A
Max:
-
1200mm
600mm
1000kg
Design
CAD Design - 2D
CAD Design - 3D
CAM Design - 3D
Recent Work
list of projects from 2015- 2018
We have a lot of project experiences and have delivered exceptional solution in these projects. Here is a list of some of the projects we have been involved in