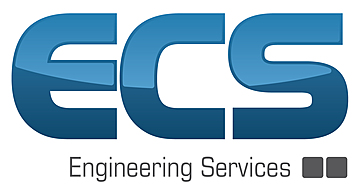 Contact: Steve Crapper

Fulwood Road South
Sutton in Ashfield
NG17 2JZ
Nottinghamshire
Size

SME

Direct employees

140

Turnover (reported)

£13,170,237

Nuclear Contracting Tiers

Tier 5: Processors & Fabricators
Accreditations
Achilles UVDB Verify Cat B
CE Marking / EN 1090
ISO 14001:2015
ISO 3834-2:2005
ISO 45001:2018
ISO 9001:2015
OHSAS 18001 Now ISO 45001
UVDB Verify
ECS Engineering Services Ltd
Steel Fabrications
Steel Fabrications up to Execution Class 4 in mild and stainless steel
Overview
ECS Engineering Services has over 30 years of experience delivering high quality, dependable and cost-effective engineering and steel fabrication services to the Water Management, Water Treatment, Construction and Nuclear Markets.
A fully 9001 certified service is enhanced with Fit4Nuclear qualification and EN 1090 factory production control to up to Execution Class 4.
We specialise in providing our clients with carefully tailored solutions from a seamless combination of bespoke design, a detail for manufacturing service, mild and stainless-steel fabrication with the option to integrate with a directly employed build and install labour force working nationwide.
Our Nuclear skills continue to develop beyond our initial history working as a subcontractor to Tier 1 Patners, into offering additional direct to client services, and we have been a framework partner for Magnox for several years
Products and Services
| Product | Sector |
| --- | --- |
| Access Ladders Stairs & Platforms | Nuclear Civil |
| Containers Transportation & Storage | Nuclear Civil |
| Structural Fabrications | Nuclear Civil |
| Fabrication Med-integrity Structures | Nuclear Civil |
| Modularised & Skid Mounted Process Systems | Nuclear Civil |
| Pipework Supports | Nuclear Civil |
| Steelwork including Mezzanine & Gantry Systems | Nuclear Civil |
In addition to our steel fabrications, ECS offers M&E Contracting services and site installations together with specialist product agencies for river intake screens, automated trash screen cleaners, Archimedes Screw Pumps and FRP structures
Site Facilities
Shop Floor
3500m2 A general steel fabrication workshop equipped with 20t Tandem lifting capacity 40 Manual MIG welding plant Esprit Viper Plasma Cutter Peddinghaus HSFDB 2500 Plate Processor New Saw/Drill section line due for installation March 2022
Welding & Cladding
Capability
Swing
Length
Width
Metal Inert Gas Welding (MIG)
Min:
-
-
-
Max:
-
-
-
Inspection / Testing
Electrical
Non destructive testing - Magnetic Partical
Non destructive testing - Ultrasonic
Pressure / Hydro Testing
Proof Load Testing
Design
CAD Design - 2D
CAD Design - 3D
Recent Work
Tank & Pump Skid
ECS were engaged by a Tier 1 partner to manufacture, assemble and test an off site constructed skid frame built complete with a tank, two delivery pumps and associated manifold pipework and valves to a Sellafield Design/Specification
The ultimate use for the assembly was to deliver service water to demolition activities associated with demolition of one of the chimneys.
ECS sourced all COTS items including the insulated tank, booster pumps and all valves, gaskets, supports and fixings while the skid frame was fabricated in house, and finished with a high specification paint coating. Pipe spools were manufactured and tested in HDPE from electrofused fittings, with flanged fixings to detailed drawings and all items were brought together for final assembly, including electrical connection of the pumps and various sensors to a local control panel.
ECS undertook the full assembly of all the components using our own mechanical and electrical craftsmen prior to extensive works testing in our outdoor build space. This testing was witnessed by the client before dispatch to site.
Complete LTQR records and an O&M Manual were provided including full traceability and CoC for all COTS items
Test Rig Structure
In this extensive contract , ECS were contracted to fulfill the Manufacture, Coating, Trial erection and site installation of an access platform and associated screening panels to enable installation of thermocouples to measure reactor gas temperature at Torness
The structure consisted of 15 modules, designed to be pre-assembled prior to dleivery to site to ultimately form into a structure approx 12m high, with a footprint of approx 20 sq metres.
The structure was encased in protective fabricated steel cladding panels from between 3mm and 10mm thick.
Partial trial build of the modules was undertaken at ECS premises, using mobile craneage (see picture)
Installation inclued set-out and drilling for holding down bolts and supply and all management of the craneage used to facilitate install within another structure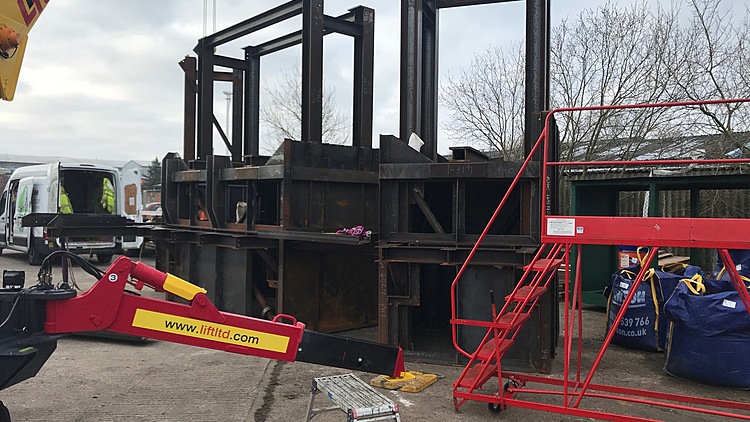 Waste Containers & Furniture
In this ongoing project (commissioned October 2021), ECS will be undertaking the manufacture of 50 off Overpack waste containers and associated support furniture for our client Magnox.
The waste containers and associated furniture are manufactured from 120mm thick mild steel plate, to close tolerances and have lifting lugs welded to each side, tested in accordance with LOLER regulations.
Each box has internal dimensions of 1047 x 1275 x 1100mm and an overall weight close to 10t, and receives a skip before being lidded, and lifted into a precast concrete overpack and encapsulated.
This ongoing project will see continuous, regular deliveries into the Chapelcross site until March 2024
(image is a 3d render from manufacturing drgs)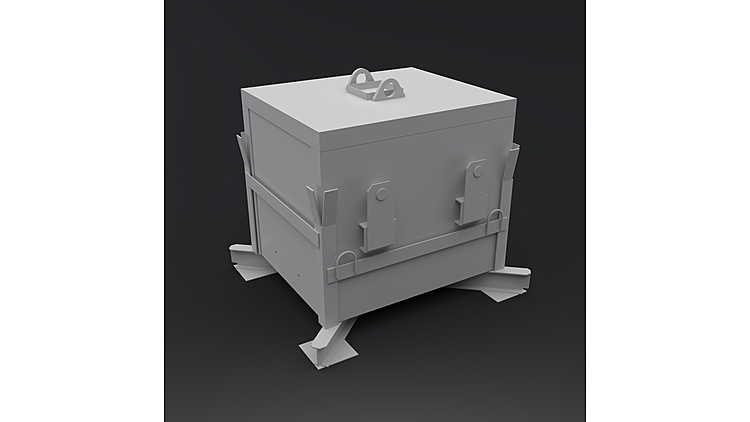 Fabricated Stillage Pallet
ECS were contracted by a Tier 1 delivery partner to manufacture two mild steel custom fabricated stillage pallets for use at Sellafield.
The stillages weighed 530kg each and measured 1900mm square in plan and were manufactured to Sellafield detailed design drawings
The governing specification was to manufacture to Sellafield specification for General Duty Fabrication of Plant & Equipment, including CE Marking to BS EN 1090 (EXC2). Non destructive MPI inspection of the welds undertaken in house and the stillages were completed with a final applied finish paint coat before delivery to site and production of the LTQR documentation
(image is a 3d render from manufacturing drgs)