Contact: Gareth Williams

Unit 6
Bryn Cefni Industrial Estate
Llangefni
LL77 7XA
Isle of Anglesey
Size

SME

Direct employees

26

Turnover (reported)

£5,411,081

Regional Markets

Asia, Africa, Antarctica, Australia, Europe, North America, South America

Nuclear Contracting Tiers

Tier 3: Original Equipment Manufacturing Organisations
Tier 4: Sub-component Suppliers/Distributors
Tier 5: Processors & Fabricators
Accreditations
ISO 14001:2015
ISO 9001:2015
OHSAS 18001
F4N Case Studies
FAUN Trackway Limited
Steel Fabrications
Light, medium and heavy fabrications of Carbon Steel and Aluminium, bespoke handling equipment, painting facilities, Engineering Design, Build to Print,
Overview
FAUN Trackway® Limited has a prestigious history in the UK, with over 75 years' experience in the design and manufacture of products for the defence sector including; vehicles, rolling stock, marine vessels and aircraft adoption.
Historically, our skills in fabrication, welding and painting converted to highly complex and bespoke projects that included; bridges, torpedo boats, half track land rovers, aviation, aerial masts and London buses. Over time, these skills have translated into our signature product range of portable roadways, expedient runway helipads, and marine access solutions, which continue to be used worldwide where the ground conditions are extremely poor.
Our team of technical, design and manufacturing engineers, coupled with our project managers and quality inspectors are here to support you and provide cost effective solutions. We're renowned for our integrity and trusted with delivering complete solutions from initial discussions to commissioning.
We pride ourselves on delivering the best customer experience possible. We are passionate about safety, quality, and the environment and are dedicated to continuous improvement and work with world class companies and governments across the world.
Our commitment to you is to develop an ongoing partnership working together to produce your products to the highest quality, on time and to your budget.
FACTORY
- 4,000m2 (40,000 sq ft2) production area.
- Two workshop pits of dimensions 12m long, 1m wide, 1.5m deep.
- 11 large roller shutter doors for easy access.
- Located close to ports of Liverpool, Holyhead, Dublin.
- 4,180m2 (43,000 sq ft2) secure storage.
- 24 hour security system.
WELDING
- Coded/certified aluminium MAG/TIG welding to
- BS EN 1090 EXC 2
- ISO EN 9606-2:2004.
- Coded/certified steel MAG welding to BS 287-1:2004.
- Modular welding jigs.
- Qualified weld inspectors.
- Qualified 'responsible welding' coordinators.
- Post-weld heat treatment capabilities.
- Ultra-sonic and magnetic particle inspection.
ENGINEERING
- 3D (Pro E/CREO) and 2D computer aided design packages in use.
- Reliable design capability in mechanical, hydraulic and electrical systems.
- Finite Element Analysis (FEA).
- Rapid prototyping.
- Product testing - mechanical and environmental.
- CE Marking and machinery directive compliance from design to manufacture.
PAINT BOOTH
- High temperature 'baked' paint booth.
- Paint booth dimensions of dimensions 18.4m long, 5.5m wide, 7.5m high.
- Pit of dimensions 16m long, 1m wide, 1.5m deep.
- Paint booth equipped with two traversable man-lifts to enable painting of tall objects.
- Booth can be split in two for flexibility.
PAINTING
- High solid two-pack paint process.
- Specialist paint specifications.
- Water-based paint processes.
- Electrostatic painting.
- Processes conform to BS EN 14001.
- Full adhesion and paint thickness tests.
- Grit blasting preparation.
HANDLING & CRANING
- Four 6 tonne gantry cranes.
- One 2 tonne gantry crane.
- One 250kg jib crane lift.
- Two 500kg jib crane lifts.
- Transport for ISO twistlock frames.
Products and Services
| Product | Sector |
| --- | --- |
| Mechanical Handling & Cranes | Aerospace - Civil and Defence |
| Steelwork including Mezzanine & Gantry Systems | Nuclear Civil |
| Mechanical & Electrical Engineering (M&E) | Aerospace - Civil and Defence |
| Other Supplies & Support Services including Analysis & Health | Aerospace - Civil and Defence |
| Other Supplies & Support Services including Analysis & Health | Aerospace - Civil and Defence |
| Other Supplies & Support Services including Analysis & Health | Aerospace - Civil and Defence |
| Other Supplies & Support Services including Analysis & Health | Aerospace - Civil and Defence |
Site Facilities
Shop Floor
4000m2
Welding & Cladding
Capability
Swing
Length
Width
Metal Active Gas Welding (MAG)
Min:
-
-
-
Max:
-
-
-
Metal Inert Gas Welding (MIG)
Min:
-
-
-
Max:
-
-
-
Inspection / Testing
Design
CAD Design - 2D
CAD Design - 3D
Recent Work
Design, and Manufacture of Bespoke Container
From concept, design and manufacture of 10ft multi purpose ISO container. Custom built, multi purpose ISO Container for the deployment of a Helicopter Landing Mat, before transforming into Forward Operating Station.
Custom fit outs enable the Multi Role Packaging (MRP) to meet any requirement, including; Aid Station, logistics or control centre, accommodation, or secure storage.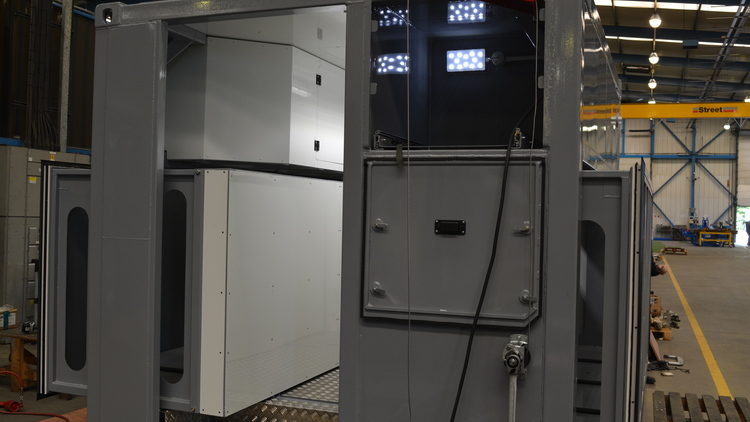 Truck Mounted Test Rig
From concept, design and manufacture of a truck mounted test rig for Factory Acceptance Testing.
Using a Hook Lift Flatrack to mount to the chassis the test rig enables full mechanical, hydraulic and operational testing of our Medium Ground Mobility System Beam Dispenser (MGMS-BD).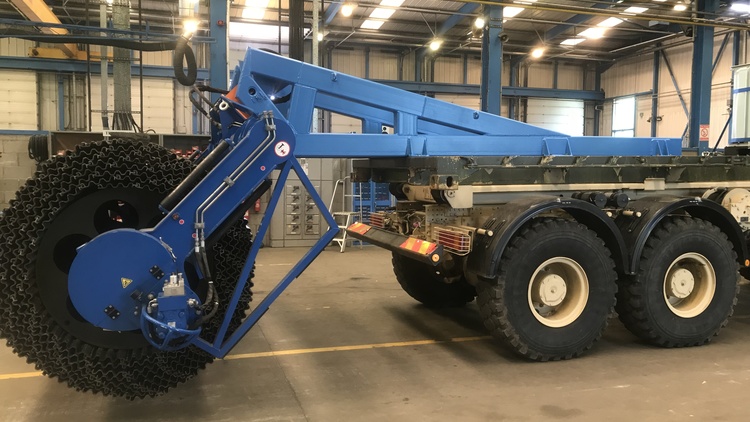 Industrial Painting
Industrial painting of large steel frame.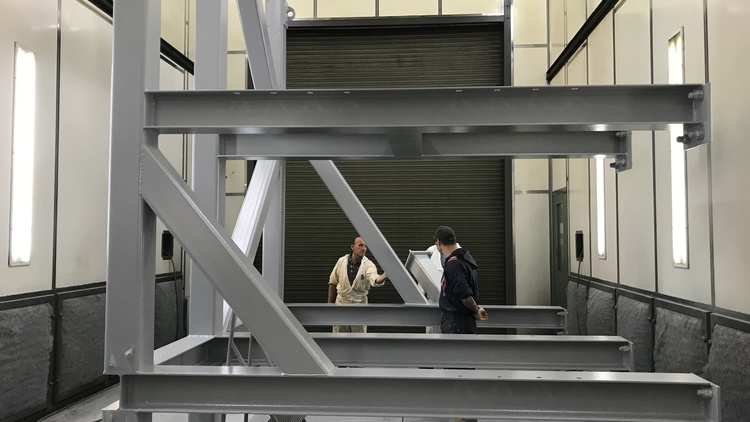 Internal Metal Staircase
Staircase for access to Mezzanine Floor. Designed, constructed to EN1090 Exc 2, and painted on site.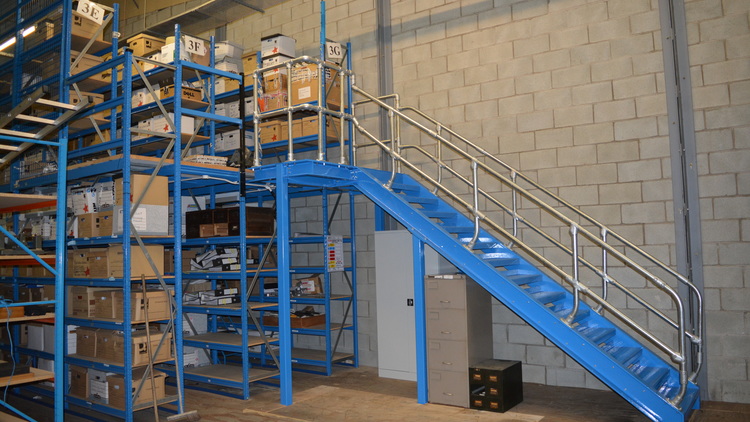 Rotating Welding Jig
From concept, design and manufacture of rotation welding jig. Operated by one person the jog enable full manipulation improving speed, safety and access for the welder during production.