Contact: QHSE Team

Waterwells Drive
Waterwells Business Park, Quedgeley
Gloucester
GL2 2AA
Gloucestershire
Size

SME

Direct employees

75

Turnover (reported)

£8,000,000

Regional Markets

Africa, Antarctica, Europe

Nuclear Contracting Tiers

Tier 4: Sub-component Suppliers/Distributors
Tier 5: Processors & Fabricators
Accreditations
ISO 14001:2015
ISO 9001:2008
OHSAS 18001
Francis and Lewis International Ltd
Material Supplier
Mild steel fabrication of structures and components, including platforms, towers, brackets, frames and walkways.
Overview
FLI is a specialist fabricator of steelwork packages for nuclear build projects that use repeatable designs in high volume for rollout work packages. Bespoke and special designs are also available for secondary steelwork packages. FLI's design & detailing teams are used to formalising outline designs from concept to fully detailed, fabrication ready solutions.
Approved to BS EN 1090-1 & 2, with welders qualified to BS EN 9606-1 and all procedures to BS EN ISO 15614-1, with complete in-house design, project management, manufacturing and installation capabilities. We have automated production lines for beams, angle, tube and plate, along with welding robots and presses to 300T. Processes include submerged arc, MIG, MMA and stud welding, fabricating mild steel to Execution Class 4.
FLI has a history of supplying products for substantial call-off contracts, for rail electrification and mobile phone technology with our designs forming over half of the UK network. We also design innovative solutions to our customers' problems, such as challenging ground or site conditions or a need to deliver very fast design and build, to developing designs which improve programme reliability.
We work closely with our customers to deliver what they want. Our track record in quality backs up this approach, with quality control producing a defect rate below 0.04% (against a 3% industry average) and a Health and Safety culture and record recognised with the ROSPA Gold Award, our systems exceed normal industry standards.
Products and Services
| Product | Sector |
| --- | --- |
| Civil Works & Civil Engineering excluding Earthworks | Construction - Civils |
| Material Plate & Bar | Material Supply |
| Structural Fabrications | Material Supply |
| Materials Structural Steels Flanged Beams & Sections | Material Supply |
| Welding & Welding Systems | Material Supply |
| Materials Supplier - all forms | Material Supply |
| Steelwork including Mezzanine & Gantry Systems | Material Supply |
| Welding & Welding Systems | Material Supply |
FLI Structures, provide design, fabrication and installation services of steel structures and steel foundation solutions, including overhead line electrification structures, signalling portal and cantilever gantries, masts and towers, grillage foundations, refuges, LOC platforms, signage, screw pile foundations, walkways, small part steel, and other bespoke structural steelwork for infrastructure markets
Site Facilities
Shop Floor
3000m2 In addition to the workshop's 3000sqm, there are offices for project managers, engineers and the drawing team on the same site and we also have a large storage facility close by.
Welding & Cladding
Capability
Swing
Length
Width
Manual Metal Arc Welding (MMA)Francis & Lewis International Ltd
Min:
-
-
-
Max:
-
-
-
Metal Inert Gas Welding (MIG)
Min:
-
-
-
Max:
-
-
-
Robotics
Min:
-
-
-
Max:
-
-
-
Submerged Arc Welding (SAW)
Min:
-
-
-
Max:
-
-
-
Inspection / Testing
Non destructive testing - Magnetic Partical
Non destructive testing - Radiography
Non destructive testing - Ultrasonic
Design
CAD Design - 2D
CAD Design - 3D
CAM Design - 2D
CAM Design - 3D
Recent Work
Door Frames
Door frames for installation across the Hinkley Point C site.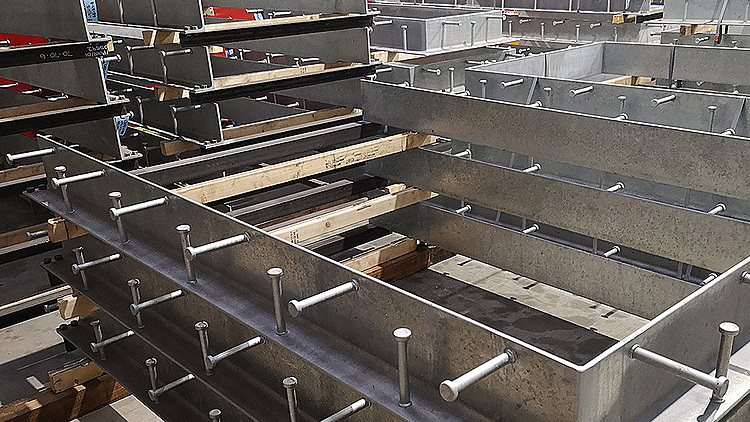 Telecoms Tower
An FLI telecoms tower to carry communications equipment at the Hinkley Point C site.