Contact: Adam Harper

Rivington Road
Whitehouse
Runcorn
WA7 3DS
Cheshire
Size

SME

Direct employees

70

Turnover (reported)

£13,000,000

Regional Markets

Asia, Africa, Australia, Europe, North America, South America

Nuclear Contracting Tiers

Tier 3: Original Equipment Manufacturing Organisations
Hosokawa-Micron Ltd
Other
Materials Processing and Containment Systems
Overview
The Hosokawa Micron Group is a world leader in the field of powder processing, particle engineering and containment systems.
In the UK Hosokawa Micron Ltd. provides a wide range of solutions for the processing and containment of materials – both hazardous and non-hazardous for sectors including Nuclear, Defence, Chemical, Mineral, Ceramics, Pharmaceutical & Food.
The Hosokawa range of products includes:
• Gloveboxes – shielded and non-shielded
• Specialists in integration of complex processes into containment systems
• Downflow Booths, Laminar-flow Booths & Fume Cupboards
• Size Reduction Systems from pre-breaking and bulk processing to fine milling
• Micronising & Nano Particle Production
• Mixers & Blenders
• Vacuum dryers & Freeze Dryers
• Compaction and Agglomeration systems
• Particle Engineering & Particle Shaping Systems
• Powder Feeders
• Bulk Container Discharge and Filling Systems
• Powder Classification & Separation
• Powder Testers and Particle Size Analysers
• Industry 4.0 solutions - data mining, process optimisation & remote monitoring
(www.hosokawagen4.co.uk)
Hosokawa Micron Ltd. provides a full design, build, installation and commissioning service to a wide range of industries in the UK, Ireland and worldwide for projects ranging from small R & D packages to full turnkey installations backed by the global resources of the Hosokawa Group.
Products and Services
| Product | Sector |
| --- | --- |
| Gloveboxes | Nuclear Civil |
| Gloveboxes | Aerospace - Civil and Defence |
| Gloveboxes | Pharmaceutical & Medical |
| Gloveboxes | Nuclear Defence - Naval Marine |
| Modularised & Skid Mounted Process Systems | Pharmaceutical & Medical |
| Modularised & Skid Mounted Process Systems | Nuclear Defence - Naval Marine |
| Modularised & Skid Mounted Process Systems | Nuclear Civil |
| Mechanical & Electrical Engineering (M&E) | Pharmaceutical & Medical |
| Mechanical & Electrical Engineering (M&E) | Nuclear Defence - Naval Marine |
| Mechanical & Electrical Engineering (M&E) | Nuclear Civil |
Process systems for powder processing, mixing, jet milling, impact milling, powder classifying, pre-breaking, drum filling, granulating, shredding, powder testers, remote monitoring, Gen4 & IOT control systems.
Site Facilities
Shop Floor
Size not specified.
Inspection / Testing
Advanced testing facilities
Equipment Qualification
Proof Load Testing
Design
CAD Design - 2D
CAD Design - 3D
CAM Design - 2D
CAM Design - 3D
Recent Work
Waste Uranium Recovery & Processing
Contained system for the recovery and re-processing of Uranium Dioxide:
The material has been stored for over 20 years in 25 gallon steel drums. The UO2 was originally recovered as part of a decommissioning project and is heavily contaminated with construction and building debris.
The steel drums contain varying levels of contaminants, but the exact contents of the drums are un-known and cannot be established until each drum is de-lidded and visually inspected. The condition of the drums is generally deteriorating and a solution was required to establish the contents of the drums, empty the drums, and process the recovered nuclear material.
The material is tipped into a glovebox and sorted. The recovered material is fed into a discharge chute and passes through 2 stages of size reduction using Hosokawa hammer mills. The powder is fed into Safe Geometry Containers and transferred to an acid dissolver feed containment system for further processing.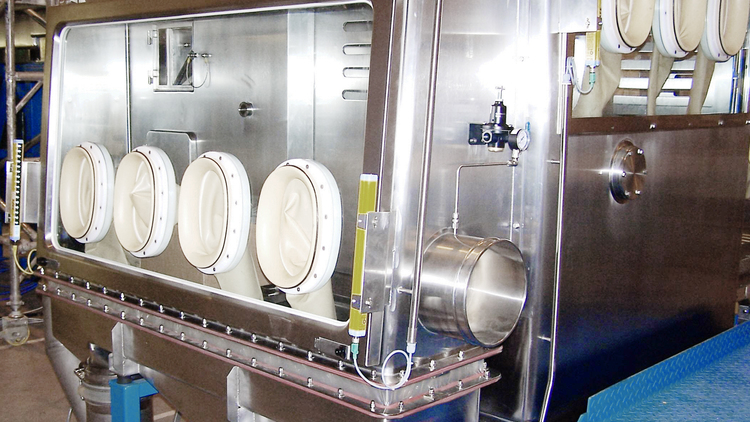 European Space Agency Containment System
MELLiSA Pilot Plant compartment V
Glovebox system for the containment of animals for the development of technology for a self-sustaining environment necessary for deep space travel.
Glovebox maximum leak tightness < 0.03% volume/hour. Leak tightness extends to the entire gas loop system which includes carbon filtration, HEPA filtration, heating, cooling & de-humidification.
All elements have been engineered to comply with the process specification as well as the leak tightness criteria.
Some of the gas from the recirculating gas loop is diverted into a bio-reactor which converts CO2 into O2 which is fed back into the isolator.
The inside of the system is a sterile environment and the system is designed for easy cleaning & decontamination.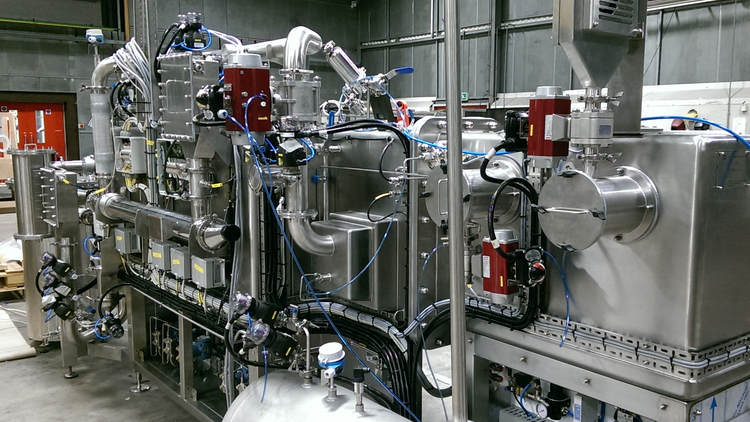 Radioactive Forensics Glovebox System
The Conventional Forensics Analysis Capability (CFAC) lab has the capability to receive some radiological, nuclear and explosively contaminated evidence, and then analyse the evidence for traditional forensics purposes.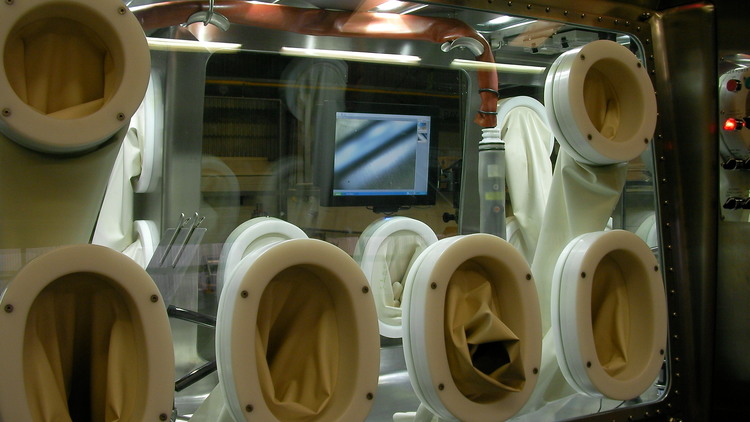 Lead shielded glovebox
Containment was required for a jaw crusher and ball mill for the size reduction of material. During size reduction, gamma radiation is emitted and the glovebox incorporates 50mm lead shielding to protect the operator. Windows are toughened , laminated glass with leaded acrylic over-lays.
Other design features used to provide additional operator protection include the sliding head shield which incorporates additional lead shielding and a leaded glass viewing slot.
The system includes a weigh system with external control panel.
A sliding, shielded door at the back of the containment can be used for removal and entry of equipment for maintenance.
Materials are introduced into the glovebox via a constant volume fume cupboard with sliding sash window and an airlock transfer tunnel.
Extracted air passes through double push thru HEPA filter and an additional safe change HEPA filter.
The containment is tested in accordance with the standards for a nuclear Class I containment (<0.05% max leakage per hour).
Internal pressures and flows are monitored and alarms sounded in the event of a fault.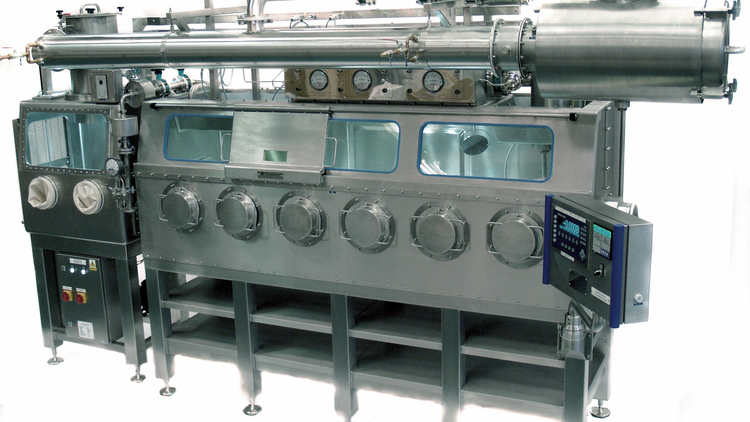 Contained Active Pharmaceutical R&D facility
Various Hosokawa processing systems are integrated into containment gloveboxes to provide the following functions for the development of pharmaceutical active ingredients:
Lump breaking, feeding/weighing, size reduction milling/micronising, laser diffraction particle size analysis, product collection.
Operators can operate equipment while standing inside the containment using a half suit which has an integrated breathing air system. A foot operated hydraulic platform is used to change the working height of the operator inside the chamber.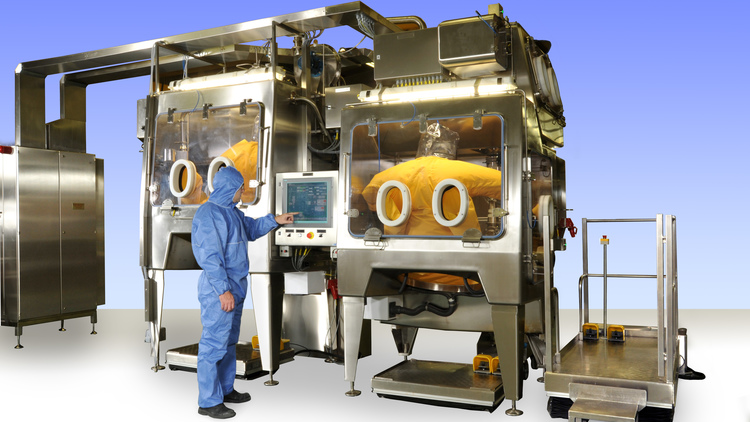 Filter housing
Safe change filter housings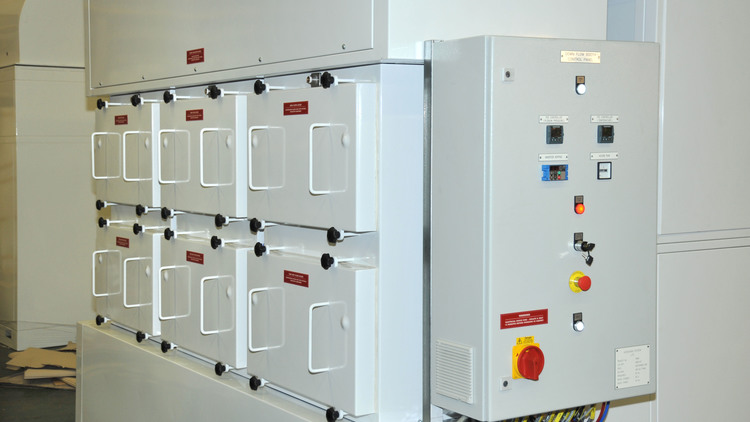 Powder packaging glovebox
Integration of depryogenation/sterilising oven, semi-automatic can handling of cans, powder dosing system, can capping, laser etching, vapourised hydrogen peroxide sterilisation & bagging system.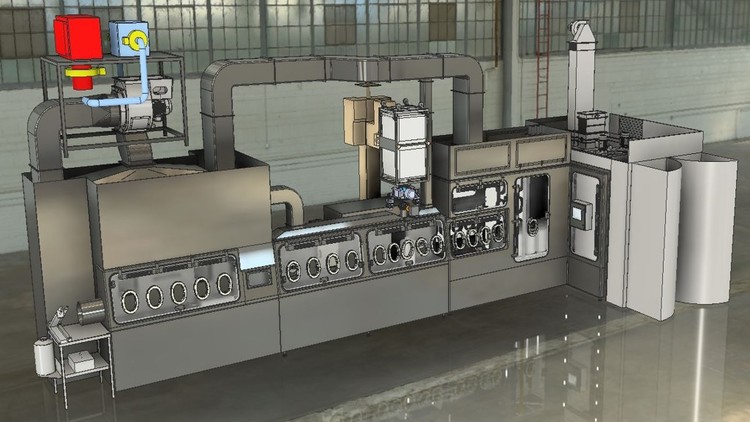 Downflow booth
A downflow of filtered air through the ceiling plenum reduces exposure of the operator to airbourne dust when handling and processing bulk powders.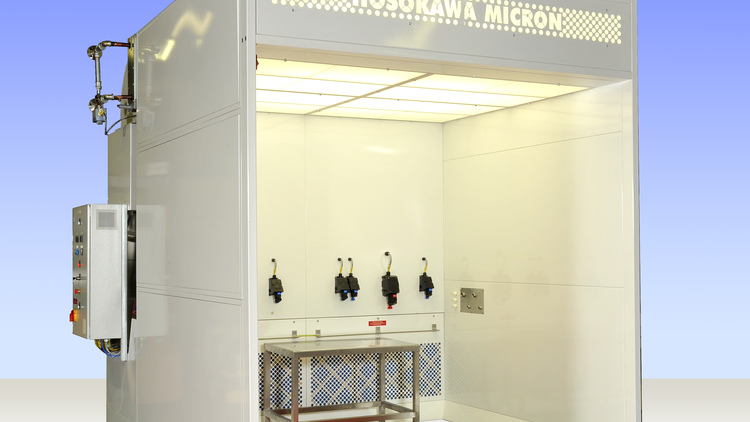 Contained Milling & Micronising
Hosokawa jet mills & impact milling systems integrated into gloveboxes to ensure operator safety while milling & micronising hazardous powders. Thru wall drive systems are used to ensure Availability, Reliability & Maintainability (ARM) requirements are met.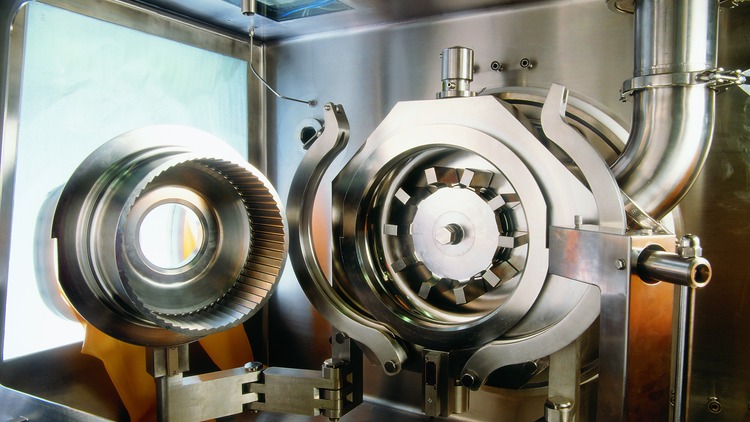 Fume cupboards & extracted booths
Air is drawn into the chamber from the room and HEPA filtered to reduce operator exposure to airbourne dust and vapours.
Remote monitoring, process optimisation & digital twin
Hosokawa process systems can now be fully digitised to allow localised or remote diagnostics, plant control, predictive maintenance and monitoring including integration with the Hosokawa mobile app for IOS & Android.
IOT sensors or PLCs integrate into with Siemens Mindsphere or other 3rd party cloud based systems.
www.hosokawagen4.co.uk