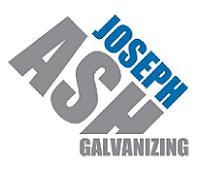 Contact: Steph Harding

Hardwick View Road
Holmewood Industrial Estate
Chesterfield
S425SA
Derbyshire
Size

Large

Direct employees

563

Turnover (reported)

£41,038,000

Nuclear Contracting Tiers

Tier 4: Sub-component Suppliers/Distributors
Tier 5: Processors & Fabricators
Accreditations
ISO 14001:2015
ISO 9001:2015
OHSAS 18001 Now ISO 45001
Joseph Ash Galvanizing
Coatings & Treatments (Inc Heat Treatment)
Hot Dip Galvanizing
Overview
Joseph Ash Galvanizing is a UK leader of steel finishing services. Founded by Joseph Ash in 1857 its services include galvanizing, spin galvanizing, shot blasting and powder coating, as well as packing, export containerisation and steel bundling.
Joseph Ash Galvanizing has eight plants in the UK (in Bilston, Bridgend, Chesterfield, Corby, Hull, Medway, Telford and Walsall).
When it comes to corrosion protection, the company provides the highest standards of quality available and serves all types of customers from large construction companies and fabricators, to local authorities and architects.
The position as a steel finishing UK leader stems not only from Joseph Ash Galvanizing's industry-leading levels of customer service – which meet the most exacting requirements of customers and end users – but also from an ethos of outstanding technical knowledge and additional services which include:
• Collection and delivery
• On-site storage facilities
• Passivation post galvanizing
• A range of different bath sizes and lifting capabilities
• Additional paperwork if requested
• The ability to powder coat aluminium as well as steel.
With a number of different bath sizes at the various plants (including one of the widest galvanizing baths in Europe at the Telford plant), everything from lighting columns to staircases, gantries to bridges, and structural sections to access support steelwork can be treated.
Small specialist parts such as hinges, nuts and bolts can also be galvanized in the company's spin line galvanizing baths.
Joseph Ash Galvanizing also offers a one-stop-service for shot blasting, galvanizing and powder coating from its Medway plant, with all services provided from under one roof.
When it comes to corrosion protection, the dedicated workforce and large and modern HGV fleet enable them to provide the highest standards of galvanizing quality and service available.
Products and Services
| Product | Sector |
| --- | --- |
| Coatings Paints Protection Processes & Systems | Construction - Civils |
Site Facilities
Shop Floor
Size not specified.
Recent Work