Contact: Anthony Morris

Ackhurst Road
Chorley
PR7 1NH
Lancashire
Size

SME

Direct employees

146

Turnover (reported)

£12,207,000

Regional Markets

Asia, Africa, Australia, Europe, North America, South America

Nuclear Contracting Tiers

Tier 3: Original Equipment Manufacturing Organisations
Accreditations
ISO 14001:2015
ISO 9001:2008
OHSAS 18001
F4N Case Studies
NIS Ltd
Other
Providing professional engineered solutions to complex challenges demands a broad and diverse range of capabilities. We are proud to offer a comprehensive range of services that provides customers with the flexibility needed to bring value to their projects, whatever the size, and at whatever stage of maturity.
Overview
We are an engineering organisation who are proud to provide bespoke, pragmatic, design and manufacturing services to a range of clients working across quality driven sectors. Our aim is to delight our clients with the service we provide, whilst enjoying our work delivering engineering excellence.
Products and Services
| Product | Sector |
| --- | --- |
| Other Supplies & Support Services including Analysis & Health | Nuclear Defence - Naval Marine |
| Other Supplies & Support Services including Analysis & Health | Marine Commercial & Naval |
| Other Supplies & Support Services including Analysis & Health | Petrochemical & Refining |
| Other Supplies & Support Services including Analysis & Health | Pharmaceutical & Medical |
| Other Supplies & Support Services including Analysis & Health | Nuclear Civil |
| Other Supplies & Support Services including Analysis & Health | Aerospace - Civil and Defence |
| Other Supplies & Support Services including Analysis & Health | Power Generation, Distribution & Transmission |
| Other Supplies & Support Services including Analysis & Health | Automotive |
NIS are accredited to BS EN 1090, ISO 3834 and are a Rolls Royce approved supplier to GS3001. We also manufacture to ASME and Sellafield SLM 4.06.02 standards.
Site Facilities
Shop Floor
3500m2 A separate 750m², 17m tall high bay, serviced by a 10 tonne crane with an under the hook height of 14.5 meters was constructed in 1997 adjoining the main workshop. This allows the construction, testing and development of large projects away from the main workshop. An additional manufacturing bay facility opened in 2011 extends the capacity of the existing workshop even further, providing an extra 600m2 of space. The building also includes a new crane capable of lifting loads up to 20 tonnes and with a clearance of 9.5 metres, which allows NIS to handle larger projects more comfortably and without the need to hire a mobile crane in many cases. The two bays can also be used to house test and simulation rigs for research and development projects. In addition to the high bays we have a 65m², 20m tall test tower, with a 10 tonne crane and an under the hook height of 17m. Within the main workshop we have a 250m² semi-clean room, allowing the assembly, test or development of products in a clean environment. This facility has been used for medical production equipment testing, clean assembly of integrated glovebox systems incorporating complex instrumentation with associated electronics packages and a number of other applications. We have an additional 800m2 workspace at our Chorley site to allow practically any shape or size requirement for future projects.
Specialist Machinery
Capability
Swing
Length
Width
Weight
4 Axis Milling
Min:
-
-
-
N/A
Max:
-
-
-
-
Horizontal Milling (CNC)
Min:
-
-
-
N/A
Max:
-
-
-
-
Horizontal Milling (Conventional)
Min:
-
-
-
N/A
Max:
-
-
-
-
Horizontal Mill / Turn
Min:
-
-
-
N/A
Max:
-
-
-
-
Welding & Cladding
Capability
Swing
Length
Width
Gas Tungsten Arc Welding (GTAW)
Min:
-
-
-
Max:
-
-
-
Manual Metal Arc Welding (MMA)
Min:
-
-
-
Max:
-
-
-
Metal Active Gas Welding (MAG)
Min:
-
-
-
Max:
-
-
-
Metal Inert Gas Welding (MIG)
Min:
-
-
-
Max:
-
-
-
Narrow Gap Welding (GTAW or SAW)
Min:
-
-
-
Max:
-
-
-
Orbital & Planetary (GTAW & SAW)
Min:
-
-
-
Max:
-
-
-
Plasma Arc Welding (PAW)
Min:
-
-
-
Max:
-
-
-
Inspection / Testing
Advanced testing facilities
Clean room facilities
Drop Testing
Electrical
Electro-Magnetic Compatability & Interference
Equipment Qualification
Fire Resistant
Non destructive testing - Magnetic Partical
Non destructive testing - Radiography
Non destructive testing - Ultrasonic
Pressure / Hydro Testing
Proof Load Testing
Radiation
Design
CAD Design - 2D
CAD Design - 3D
CAM Design - 2D
CAM Design - 3D
Recent Work
Integration Project - Demonstrator Robots
University of Nottingham – Centre for Aerospace Manufacturing
The new purpose built aerospace assembly testbed aimed at validating, demonstrating and promoting new digital manufacturing technologies to the UK aerospace sector. The Future Automated Aerospace Assembly Demonstrator (FA3D) specifically aims to demonstrate how informatics can enable radically new manufacturing systems that can rapidly transform to deliver a variety of different aircraft products, thus creating a new transformable production environment for complete manufacture of high-complexity low-volume aerospace products.
NIS collaborated with the University of Nottingham to deliver an innovative demonstrator for advanced aerospace manufacturing techniques.
NIS's scope was the supply and installation, including control systems, programming and safeguarding, of two robots capable of handling components and end effectors of up to 270kg.
It is specifically focussed on future reconfigurable assembly systems including automated drilling, bonding and fastening processes, highly flexible and adaptable tooling fixtures, and analytical data intensive component and process tracking and validation.
This was an extremely exciting project to have secured and to be working with the University of Nottingham and their other supply chain partners. Whilst we are probably best known for our work in the nuclear sector, this project highlighted one of our other well established core capabilities in the integration of industrial robots into fully commissioned manufacturing systems.
(Text and photo courtesy of University of Nottingham)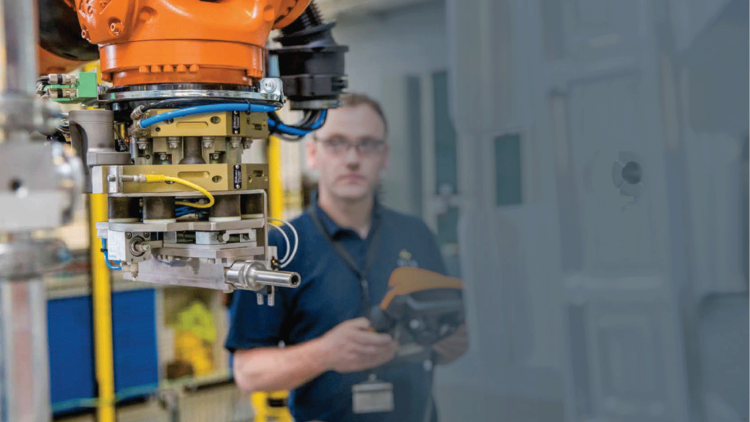 Sellafield Awards NIS Ltd 10 Year £25m Personal Access Doors Framework
NIS Ltd are celebrating after successfully securing a 10 years framework contract from Sellafield Ltd as part of their strategic Category Management procurement programme. The framework agreement, with a value of up to £25m, will see NIS fulfil all of Sellafield's requirements for the manufacture and supply of Personal Access Doors.
On Wednesday 15th of March a delegation from Sellafield Ltd attended the formal opening up of the contract meeting and tour of the NIS site hosted by Senior Project Manager Tom Atkinson (picture above).
Gill Marsden Acting Managing Director: "The whole team at NIS are absolutely delighted to have been awarded this valuable long term contract. We have been providing plant and equipment to the Sellafield site for over 30 years but it hasn't always been easy to forecast our capability and capacity requirements. The value and duration of this contract will allow us to further strengthen our relationship with the Sellafield community and to invest in developing and growing our skill base and socio economic contribution, both in Lancashire and in West Cumbria"
John Sidney Head of Category Management: "Category Management is vital to Sellafield Ltd's future by working with excellent engineering companies such as NIS Ltd we can accelerate hazard and risk reduction and build our collective capability for the challenge ahead".