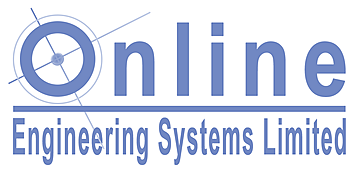 Contact: Jonathan Imm or Tim Parrott

2 Stonehouse Commercial Centre
Bristol Road
Stonehouse
GL10 3RD
Gloucestershire
Size

Micro

Direct employees

13

Turnover (reported)

£862,374

Regional Markets

Asia, Europe, North America

Nuclear Contracting Tiers

Tier 4: Sub-component Suppliers/Distributors
"A Supplier of High Quality Precision Machined Components "

Online Engineering has been a trusted supplier to our business for nearly 20 years, providing high quality precision machined components for Aerospace, Defence, Pharma and automotive sectors. Their quality of works has always been excellent with rapid turnaround times where necessary.
I would have no hesitation in recommending this company
""
Accreditations
ISO 45001:2018
ISO 9001:2015
Online Engineering Systems Ltd
Precision Machining
CNC precision machining, CNC milling,CNC turning,Assembly,General machining
Overview
Specialists in tight tolerance precision machining for complex parts in one-off and small / medium runs.
Highly skilled, committed, and experienced workforce in Mill/Turn CNC machining up to full 5-Axis. Development & prototype work in all types of materials with support for EDM, welding, grinding, bending, finishing & application of paint, surface & heat treatments via third party approved suppliers.
Assembly services (including electronic, electrical & Mechanical) enable us to deliver complex components, full assemblies, sub-assemblies and individual parts.
All operations overseen by an experienced, dedicated team working to ISO 9001 UKAS accredited QMS with full ISO 45001 accredited OHSMS.
Our clients include, but are not limited to: major petrochemical, automotive, automation & aerospace companies, you can expect Online Engineering Systems ltd to provide an efficient & cohesive service from conception to delivery – Our aim is always Quality, On-time & On-budget".
Products and Services
| Product | Sector |
| --- | --- |
| Precision & General Machining | Oil & Gas including LNG |
| Precision & General Machining | Subseas and Offshore |
| Tooling Equipment | Oil & Gas including LNG |
| Mechanical & Electrical Engineering (M&E) | Oil & Gas including LNG |
| Precision & General Machining | Oil & Gas including LNG |
| Precision & General Machining | Aerospace - Civil and Defence |
| Precision & General Machining | Nuclear Civil |
| Precision & General Machining | Nuclear Defence - Naval Marine |
| Precision & General Machining | Rail & Transport |
Online have a dedicated inspection department with an extensive range of measuring equipment. This helps to ensure products meet customer specifications and drawing requirements, by means of in process inspection, 1st off approval and Final inspection. First Article/Sample reports are available on request, for customers verification purposes
All equipment is maintained and calibrated in line with ISO9001:2015
Site Facilities
Shop Floor
400m2 Premises within "M5" corridor. Located less than a mile from junction 13
Specialist Machinery
Capability
Swing
Length
Width
Weight
5 Axis Milling 18000 max spindle speed
Min:
-
-
-
N/A
Max:
-
-
500mm
-
Horizontal Mill / TurnBar Feed
Min:
-
-
-
N/A
Max:
696mm
-
380mm
-
Recent Work
Mecalec Ventilator Project
At the peak of the first wave of the COVID 19 pandemic, we were approached by one of our long-standing customers who had an idea to see if it was possible to use some of their off-the-shelf automotive products as the core for a new ventilator design.
Working with the customer and some of our key partners, the first prototype was produced within 10 days, with the first beta production unit being manufactured 4 weeks later. The Online team worked around the clock to meet extremely tight production deadlines.Further development continued for 4 months after this, adding additional improvements to the valve system and the user interface.
The ventilators function was fully approved by a consultant anaesthetist from Worcester General Hospital