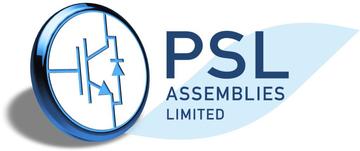 Contact: Nicholas Smith

PSL House
Eastern Avenue
Dunstable
LU5 4JY
Bedfordshire
Size

SME

Direct employees

24

Turnover (reported)

£3,100,000

Regional Markets

Asia, Africa, Australia, Europe, North America, South America

Nuclear Contracting Tiers

Tier 5: Processors & Fabricators
Tier 4: Sub-component Suppliers/Distributors
Tier 3: Original Equipment Manufacturing Organisations
F4N Case Studies
PSL Assemblies Ltd
Enclosures
Semiconductor Stack Assembly, Thermal Solutions for Power Electronics, custom Heat Sinks & Liquid Cooling Plates, Power Conversion Sub-Assembly.
Overview
PSL Assemblies Limited is based in Dunstable, United Kingdom, and has 45 years' of experience in the manufacture of Semiconductor Stack Assemblies and Thermal Solutions for Power Electronic applications.
In house manufacturing includes CNC/VMC machining of custom heat sinks - including standard extrusion heat sinks, bonded-fin heat sinks, and liquid cooled plates.
All types of Semiconductor Stack & Power Electronic Assembly are manufactured in-house, including: Diode, IGBT and Thyristor Stacks, IGBT Chopper, Rectifier, Inverter sub-assembly, Static-Transfer Switch, box-builds and enclosures. PSL also manufacture specialist Isolation cells and bespoke clamping solutions, as well as supplying specialist gate drives, laminated busbars, power electronic capacitors and aluminium electrolytic capacitors.
In-house design & technical consultancy, 3D CAD, thermal analysis and prototype facilities - all enable PSL to provide a full Thermal Solution and Power Stack Assembly service to the Nuclear, Defence & Power Generation industries.
We can design a bespoke thermal solution for your power electronic applications, or we can work exactly to your BOM, drawings and technical specifications.
Products and Services
| Product | Sector |
| --- | --- |
| Electrical & Electronic Components & PCB's | Oil & Gas including LNG |
| Electrical & Electronic Components & PCB's | Subseas and Offshore |
| Electrical Enclosures & Panels | Nuclear Civil |
| Electrical & Electronic Components & PCB's | Nuclear Civil |
| Transformers & Inverters | Nuclear Defence - Naval Marine |
| Instrumentation & Control | Nuclear Defence - Naval Marine |
| Electrical & Electronic Components & PCB's | Renewables - (Wind, Tidal, Solar Biomas etc.) |
| Transformers & Inverters | Rail & Transport |
| Electrical systems - Low-Medium Voltage Switchgear | Electrical components & equipment |
| Power Supplies - Emergency Systems | Power Generation, Distribution & Transmission |
| Electrical Enclosures & Panels | Power Generation, Distribution & Transmission |
| Electrical & Electronic Components & PCB's | Electrical components & equipment |
Semiconductor Stack Assembly (Thyristor, Diode, IGBT), Power Electronic Assembly, Standard Extrusion Heat Sinks, Bonded-Fin Heat Sinks, Liquid Cooled Plates, Static Transfer Switches, Thermal Solutions, Amantys gate drives, Idealec Laminated Bus-Bars, ICAR & Itelcond capacitors.
Site Facilities
Shop Floor
2250m2 In-house factory facilities include: CNC/VMC machining, EPA protected electronic assembly, manual electro-mechanical assembly, bonded-fin heat sink facility, secure storage, mezzanine storage, CMM measurement, testing, inspection, thermal analysis.
Specialist Machinery
Capability
Swing
Length
Width
Weight
Multi-spindle drillingDrilling & tapping threaded holes for semiconductor assembly
Min:
-
-
-
N/A
Max:
-
-
-
-
Vertical Milling (CNC )Machining of custom heat sinks and cooling plates.
Min:
-
-
-
N/A
Max:
-
1200mm
700mm
-
Vertical Mill / TurnPrototyping and short-batch machining
Min:
-
-
-
N/A
Max:
-
-
-
-
Inspection / Testing
CMM machines
Electrical
Electro-Magnetic Compatability & Interference
Pressure / Hydro Testing
Design
CAD Design - 3D
CAM Design - 3D
Recent Work
Static Transfer Switch
PSL Assemblies Limited design and manufacture all configurations of Static Transfer Switches up to 10,000A, using a combination of bonded-fin heatsinks, extrusion heatsinks and heat pipes to achieve maximum performance with minimum footprint. All STS units are designed and manufactured to client specifications in our factory in Dunstable, Bedfordshire.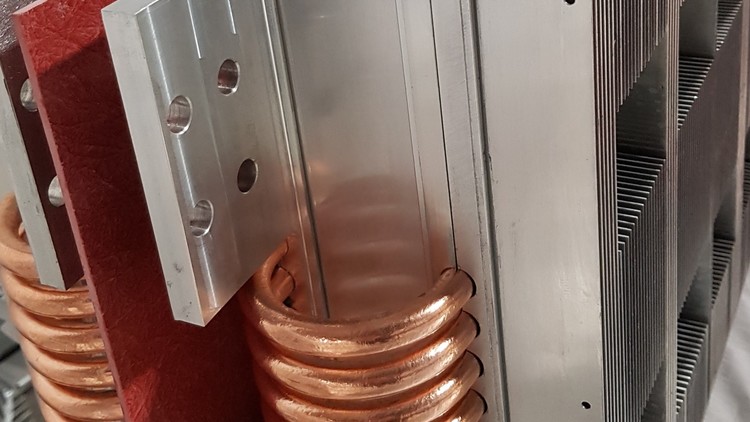 ICAR - Power Electronic Capacitors
Manufactured in Italy, ICAR supply the finest quality Power Electronic Capacitors in Europe. PSL Assemblies are the UK agent and distributor for ICAR, and we can offer a wide range of standard capacitors as well as specialist and custom capacitors.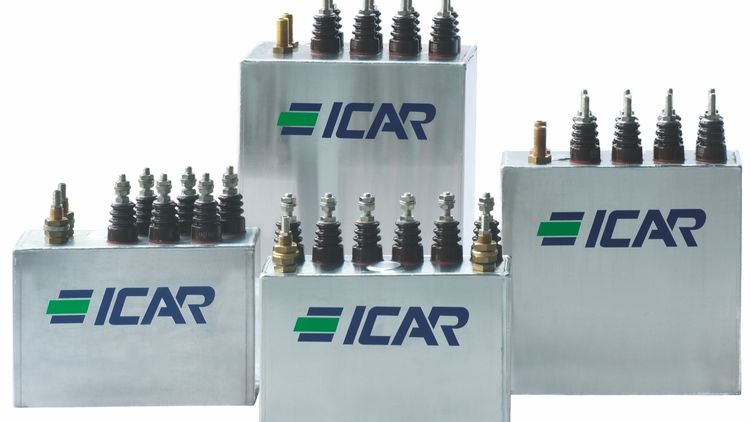 Itelcond - Electrolytic Capacitors
PSL is the UK agent and distributor of ITELCOND aluminium electrolytic capacitors. Itelcond are manufacturers of a wide range of excellent quality electrolytic capacitors, as well as having expert facilities to manufacture specialist capacitors and capacitor banks.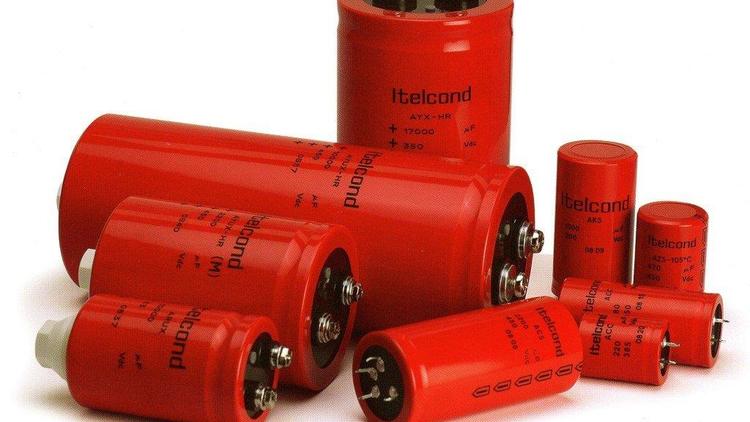 Bonded Fin Heat Sinks
PSL is the leading European manufacturer of Bonded-Fin Heat Sinks. Available in all designs and sizes, we manufacture bonded fin heat sinks to the highest standards of workmanship and quality. Our manufacturing & bonding process has been developed over 30 years, and we have unrivalled expertise in the manufacture of Bonded-Fin heat sinks.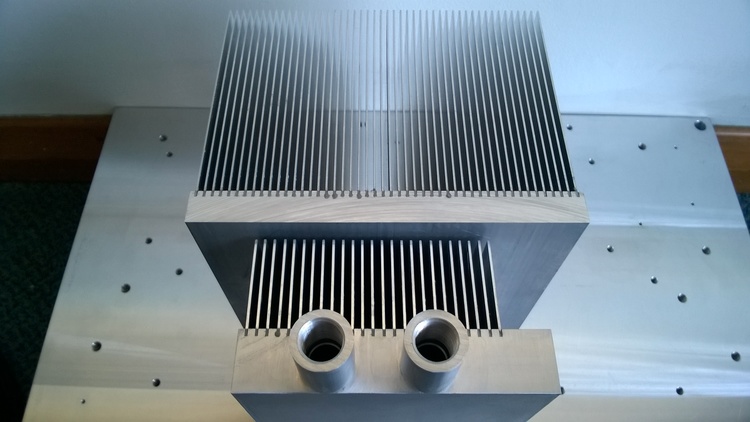 Standard Aluminium Extrusion Heat Sinks
PSL manufactures custom machined heat sinks using Standard Aluminium Extrusion profiles. All heat sinks can be machined to bespoke requirements - incorporating additional cooling methods as required. Prototypes, thermal analysis and volume batch manufacturing available.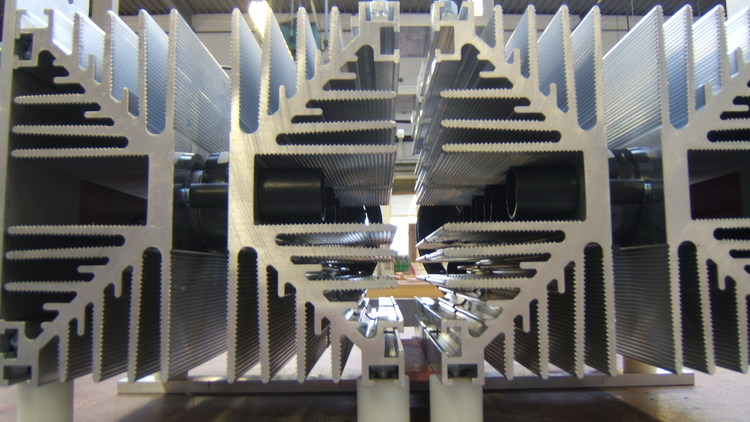 IGBT with Amantys Gate Drive Technology
PSL is a "value-added supplier" of Amantys gate drive technology. We can incorporate Amantys gate drives into our IGBT assemblies - providing fully optimized power stacks with state-of-the-art gate drive technology.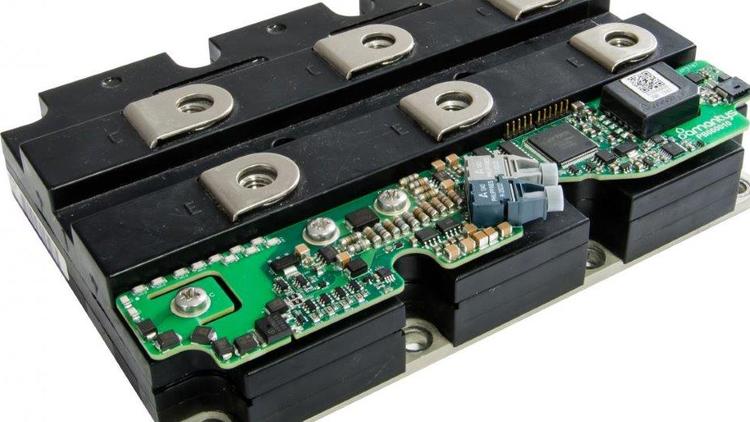 IGBT Assembly
PSL manufacture every type of IGBT stack assembly - from H-Bridge to Full Inverter configurations. This picture shows a custom-manufactured bonded fin heat sink - manufactured in-house at PSL., together with IGBT modules supplied by Infineon.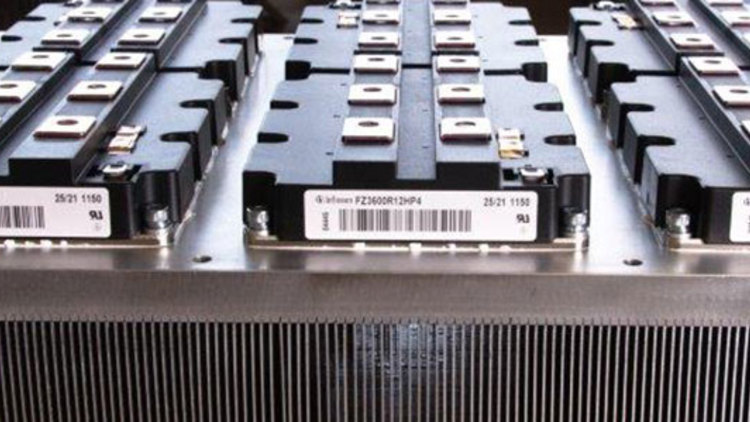 Diode Assembly for specialist electric rail application
Custom machined heat sink, bespoke clamping & bracket solutions, capacitors, thermal materials and additional power electronic components. This Diode Assembly is manufactured entirely in-house at PSL, and is designed to protect rail power conversion equipment from pantograph surges.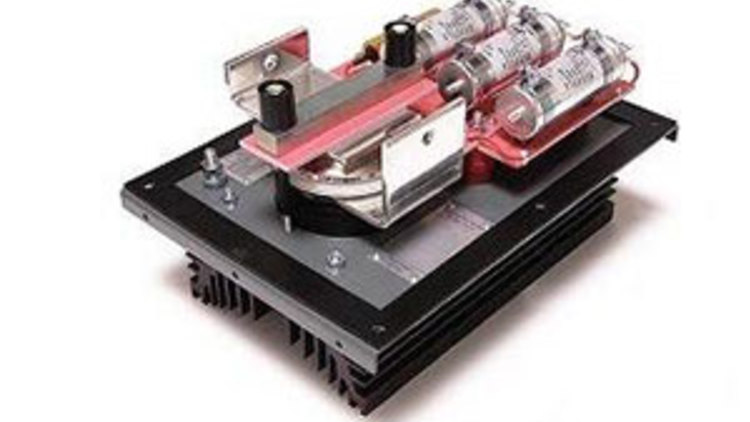 Liquid Cooled Plates
One example of several hundred of bespoke designs of Liquid Cooled Plates manufactured by PSL. We can manufacture any size and design of Liquid Cooled Plates, including any configuration of pipework array in a range of materials.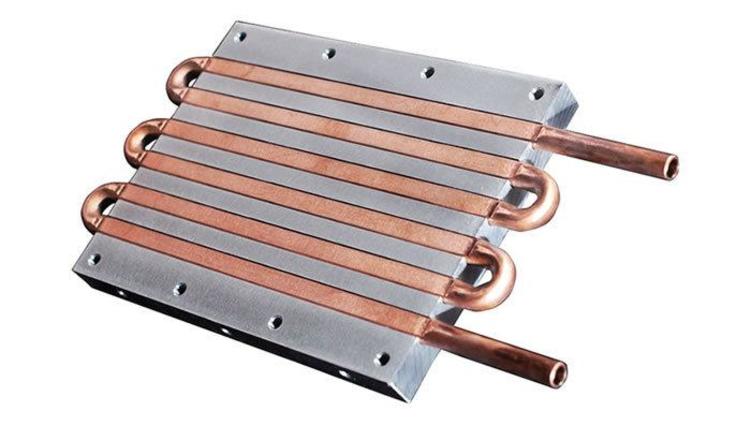 Power Electronic Sub-Assembly
Specialist sub-assembly example, showing array of custom-machined standard-extrusion heat sinks - together with in-house electro-mechanical assembly.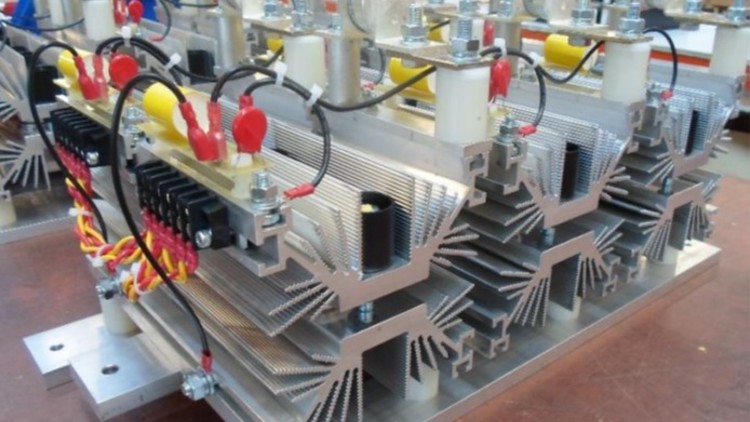 Electronic Enclosure - Work in Progress picture
Prototype design and assembly of complex power electronic enclosure. All procurement, design, technical support, and assembly carried out in our premises in Dunstable.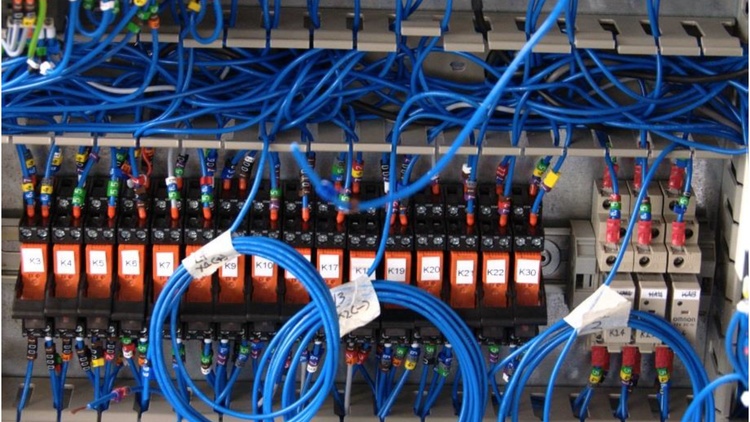 Main Rectifier for Rail power conversion application
This rectifier assembly contains a number of power electronic components including: diodes, isolation cells, capacitors, bus bars, custom clamps and brackets. All electro-mechanical assembly carried out in-house, including in-house machining of standard extrusion heat sink.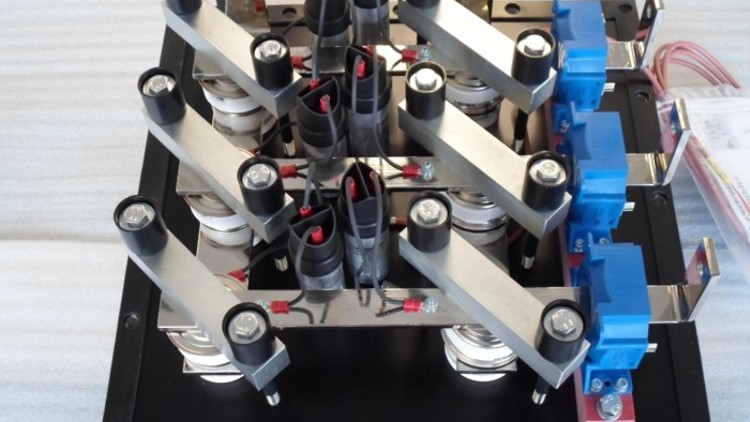 HV inverter Sub-Assembly
Full design, technical support, procurement, heat sink manufacture, electro-mechanical assembly, EPA assembly, and inspection of specialist HV Inverter sub-assembly - for Nuclear Defence application.
Photograph depicts outer packaging/box-build, IGBT modules, assembly with custom-machined Bonded-Fin heat sink.
The inverter weights approx. 250 kgs and is an example of some of the larger assemblies that can be supplied by PSL.