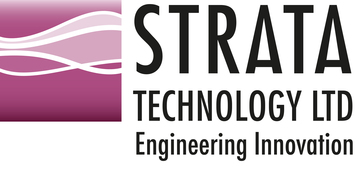 Contact: Roger Kimber

Strata House
Batavia Road
Sunbury-on-Thames
TW16 5LR
Greater London
Size

SME

Direct employees

28

Turnover (reported)

£3,000,000

Regional Markets

Asia, Africa, Australia, Europe, North America, South America

Nuclear Contracting Tiers

Tier 3: Original Equipment Manufacturing Organisations
Tier 2: Systems Integration Organisations
Accreditations
EN 17020
ISO 14001:2015
ISO 45001:2018
ISO 9001:2015
PED 97/23/EC / ESPN (PED)
Strata Technology Ltd
Other
Precision manufactured systems and equipment for analytical, research and development, process development and production purposes
Overview
Strata Technology is an engineering company which specialises in providing turnkey solutions to industry and academia for the supply of bespoke laboratory-scale equipment, skid mounted rigs and pilot plants used for analytical, research and development, process scale-up or production purposes.
Strata's highly qualified and multi-disciplinary in-house project teams of electrical, mechanical and process engineers work alongside skilled mechanical, electrical and process control technicians to provide its customers with innovative and cost-effective solutions tailored exactly to their needs.
The company also offers problem-solving consultancy services, including feasibility studies and project evaluation and inspection services to advise on statutory requirements and carry out preventative maintenance examinations and certification of plant and equipment for health, safety and environmental assurance.
Strata operates a Business Management System approved by Lloyd's Register Quality Assurance Ltd to be compliant with ISO 9001:2015, ISO 14001:2015 and ISO 45001:2018, is accredited by UKAS for the inspection of pressure systems in accordance with ISO/IEC 17020:2012 and is an approved Fit For Nuclear (F4N) business, showing that we put people and process excellence at the heart of everything we do.
Products and Services
| Product | Sector |
| --- | --- |
| Modularised & Skid Mounted Process Systems | Petrochemical & Refining |
| Inspection & Surveilance Services | Petrochemical & Refining |
| Pressure Vessels Heat Exchangers & Tanks including Internals | Petrochemical & Refining |
| Mechanical & Electrical Engineering (M&E) | Petrochemical & Refining |
| Pressure Vessels Heat Exchangers & Tanks including Internals | Petrochemical & Refining |
| Inspection & Surveilance Services | Oil & Gas including LNG |
| Fabrication Med-integrity Structures | Petrochemical & Refining |
| Fabrication Med-integrity Structures | Oil & Gas including LNG |
| Instrumentation control computers detectors transmitters monitors & panels | Petrochemical & Refining |
| Materials Tubing & Pipework | Oil & Gas including LNG |
| Other Supplies & Support Services including Analysis & Health | Petrochemical & Refining |
Feasibility studies, conceptual design, front-end design, detailed design covering process, mechanical, electrical and control systems
UKAS accredited Inspection and Test facilities for pressure vessels
Training courses for Pressure Systems Safety and Electrical Compentence
Specialists in the commercialisation of academic research
Site Facilities
Shop Floor
Size not specified.
Inspection / Testing
Electrical
Equipment Qualification
Pressure / Hydro Testing
Design
CAD Design - 2D
CAD Design - 3D
Recent Work
Carbon Capture Pilot Plant
Background
University of Nottingham's main area of research for carbon capture, usage and storage (CCUS), is in the capture of carbon before it's released into the atmosphere. This includes using new, high-capacity adsorbents which capture CO2 either pre or post-combustion.
The project brief was for the design and supply of circulating and bubbling fluidised-bed systems (CFB and BFB) for testing new adsorbents for CO2 capture on a 5-20 kg scale using simulated and actual flue gases and Strata was appointed to design, manufacture and assemble the plant on-site, including commissioning of the equipment.
Read the full project overview for Step Change Adsorbents and Processes for CO2 Capture here:
https://gtr.ukri.org/project/64A9A974-D6C2-48B1-8134-2CA3F011860D
Involving Strata staff across projects, process, procurement, workshop, quality and Health & Safety, the successful delivery of this project required communication and teamwork across all departments and disciplines.
Challenges
One of the biggest challenges the team faced was aligning the client's design expectations with Strata's scope of supply, taking into account the team's relatively limited knowledge of the process.
Strata was utilising off-the-shelf equipment such as compressors, rotary valves and expansion joints to try to deliver against bespoke applications which, therefore, required modification.
Another challenging aspect was the distance from the workshop to site and the length of onsite time required to complete the assembly/installation, fulfil the welding requirements and the lifting operations.
Solutions
By regularly communicating with the client to review progress and status, we were able to incorporate some design changes along the way. Discussions around design, safety and any issues arising meant the client was fully involved throughout the project timeline.
Standard items were modified at the machinists, essentially customising stock products at a lower cost and faster turnaround.
Strata staff were timetabled to maintain a healthy work/life balance, welders were sourced to attend site on a day rate and a manual lifting plan was put in place to negate the cost of hire and training using heavy lifting equipment.
To accommodate some third-party delivery delays, the Strata team built time into the project plans to enable final delivery on schedule.
Completion
"We have worked with Strata for a number of years and therefore had confidence and trust in their ability to build and deliver this rig. The solids looping adsorption rig is essential for taking forward our findings on developing new adsorbents for CO2 capture on their pathway to commercialisation. The rig gives us the flexibility and capability to test a number of formulations or our adsorbents on a scale up to 20 kg which is essential for planning the next stage in their development of moving to demonstration plants."
Professor Colin E. Snape, Director of EPSRC Centre of Doctoral Training in CCS and Cleaner Fossil Energy from the Faculty of Engineering, University of Nottingham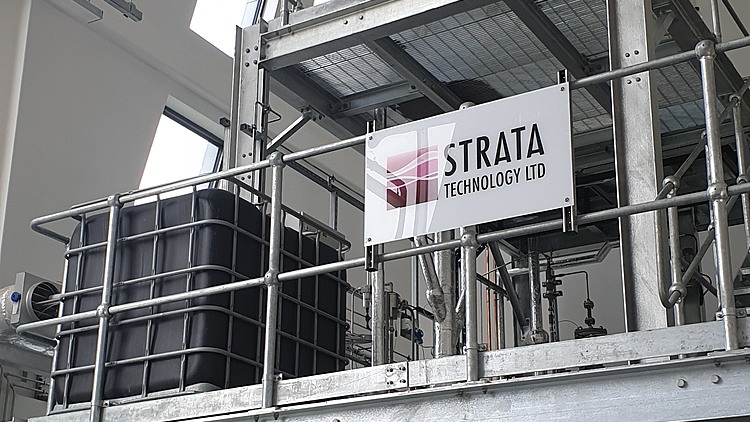 Undergraduate Training Rig for the University of Surrey
Background
The client requested Strata Technology's expertise to undertake the detailed engineering design, procurement, build, installation and commissioning of a pilot plant to demonstrate the operation and troubleshooting of a number of unit operations, including a continuous agitated reactor, coarse and fine filtration steps, carbon dioxide absorption and heat recovery, whilst producing saline solution at various concentrations.
The rig is to be the centrepiece of the University's plan to renovate their Chemical Engineering department.
The plant has been designed using Autocad P&ID and Solidworks 3D modelling and will be operated by undergraduate students for curriculum courses, thus consideration has been given not only for health and safety purposes but also to allow the students to operate a semi-commercial scale process which includes the capability to simulate problems that do occur in industry, in order for them to gain experience of real-world situations and better prepare them for their future industrial careers.
The plant will also be used as part of a training programme for OPCW Inspectors (Organisation for the Prohibition of Chemical Weapons).
Challenge
The main challenge Strata faced with this project was the limited time available for on-site installation and commissioning, due to on-going undergraduate courses and external training programmes using equipment located within the same area and whilst working within the university's own renovation timeline.
Completion
Strata successfully completed the project in early March 2017. The University of Surrey is now in the process of organising the Grand Opening to unveil the new training rig.
Weblink
http://www.stratatec.co.uk/case-studies/the-university-of-surrey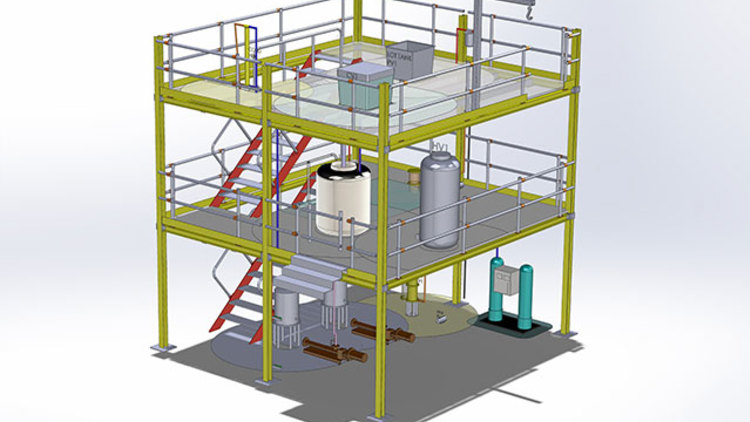 High Integrity Batch Reactor Pilot Plant
Strata was approached by a global chemical company who was developing new synthesis routes for the manufacture of high value fine chemicals. The brief was to design and construct a specialist high pressure batch reactor facility in which these reactions could be studied at an industrially relevant scale, in a safe working environment, with excellent reproducibility between batches.
The challenge was to develop a unit that would allow a research chemist, with limited process plant experience, to carry out reactions that required the safe handling, accurate dispensing and effective mixing at high pressures and temperatures of the highly toxic, flammable and corrosive process chemicals required to synthesise the new fine chemical products.
Using Strata's extensive portfolio of pilot plant modules, a cost effective turnkey solution was configured. The initial process and instrumentation diagram (P&ID) was subjected to a detailed design review and a hazard and operability study (HAZOP) to arrive at the final process design for the High Integrity Batch Reactor Pilot Plant.
Using SolidWorks 3D CAD software, the detailed mechanical design for the pilot plant was developed. Specialist vessels were fabricated under the supervision of a Notified Body to ensure compliance with the requirements of the Pressure Equipment Directive (PED). Two electrical cabinets were designed, the first to house the process control system and the second to house the control gear for the various pumps and motors fitted to the pilot plant. Each of the sub-assemblies were then constructed and tested in our workshop before the pilot plant was erected, integrity and functionally tested in the client's laboratory facility. Finally process commissioning was completed and a typical trial reaction was undertaken with support from Strata personnel, before the pilot plant was handed over to the client.
The pilot plant comprised:
• A stirred tank reactor featuring: a clamp-ring main body flange with elastomer seal; a 2:1 aspect ratio; magnetically coupled stirrer drive with gas entraining paddle. Working limits: 70barG at 140oC;
• A liquid reactant section designed firstly to allow the solvents and reactants to be safely transferred in the pilot plant holding tanks under an inert gas blanket and then secondly be metered using coriolis mass flow controllers into the reactor;
• A gaseous reactant feed section to allow for highly toxic gaseous reactants to be handled safely and to be dispensed using a coriolis mass flow controller combined with an. electronic pressure controller into the reactor;
• Provisions for safe handling, collection and transfer of the reaction products to storage vessels under an inert blanketing gas.
In order to address the safety and environmental requirements the pilot plant has the following features:
• A dual process alarm safety shutdown system with the first level of process safety alarms being generated by the LabView computer control system and a second independent alarm system using additional process sensors and a Siemen's PLC running a customised application;
• A custom designed multi chambered extracted enclosure is used to provide a further layer of separation between the hazardous process materials and the research chemists. The extracted enclosure is fabricated in stainless steel for good resistance to corrosion;
• The process vent system is purged with an inert gas and the emissions from all vents – whether voluntary or involuntary – are carefully managed. Before being released to atmosphere, gaseous emissions are passed through appropriate mitigation to ensure that the necessary regulatory requirements are met.
Using a custom designed computerised control system developed in the LabView graphical programming environment, the research chemist is able to plan and set up his experiments. The software interface provides, via an easy to use recipe editor, a mechanism for a research chemist to enter the parameters required for each of the process steps in a clear tabular form. Once developed, these experimental protocols can be saved, reloaded and used as the basis for the development of new experimental protocols. Alternately the research chemist can run the plant manually from the computer screen. In both cases they are able to closely follow the plants response to their instructions using the real-time trend displays. All process control parameters and actions are logged to files which can be used subsequently for in-depth analysis of each experimental reaction.
The High Integrity Batch Reactor Pilot Plant has given the client a facility to carry out batch reactions at high pressures and temperature in many different process configurations including:
• Simple 'single charge' of all solvents and reactants before heating the reactor to allow the reaction to proceed;
• Preliminary charge of solvent (and some reactants) before stabilising at reaction conditions (pressure and temperature) followed with stepwise addition of one or more further reaction mixture components during the reaction process;
• Preliminary charge of solvent (and some reactants) before stabilising at reaction conditions (pressure and temperature) followed by addition of the gaseous component of the reaction mixture at a variable mass flow rate in order to maintain a constant pressure in the reactor.
Using this facility has allowed the client to both understand the chemistry of the new synthesis routes to the desired fine chemicals and to generate the engineering data needed to carry out preliminary design studies into a full sized production facility.
http://www.stratatec.co.uk/case-studies/high-integrity-batch-reactor-pilot-plant